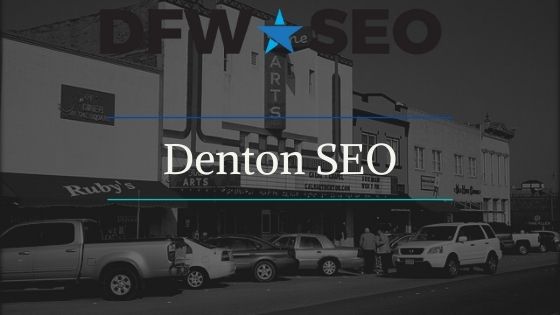 Are you looking for SEO in Denton? Dallas Fort Worth SEO is the top-rated SEO agency in Denton, Texas. Our webmaster team covers all your digital marketing needs, from on-page SEO and content writing to custom website design and reputation management. Best of all, our clients receive the Local SEO software, DataPins, with their SEO services.
The Denton SEO Experts Provide Full-Service Optimization
As an SEO company in Denton, TX, we provide a medley of services for Denton businesses. Our clients receive a custom website with on-page SEO, content writing, and reputation management. In addition, each client gets DataPins, the #1 Local SEO tool in the United States.
Custom Websites / Web Design
The most successful SEO strategies start with a strong foundation. Custom website designs are vital for ranking on Google search results and converting those visitors into customers. We never adopt our client's current website and craft an entirely new site for optimal rankings.
On-Page SEO
On-page SEO ultimately causes pages to rank well on Google search results. Our process starts with solid keyword research allowing us to group the most relevant keywords for each page and post. From there, we craft your titles, meta descriptions, and on-page content to target the keyword groups. The results are outstanding Google rankings.
Content Writing
Most Denton Search Engine Optimization companies outsource content writing to third parties, resulting in inferior content quickly flagged by Google. At DFW SEO, we employ in-house SEO content writers to craft custom and keyword-rich content for Denton businesses. As a result, our client's pages outperform competitors in the Dallas Fort Worth Metroplex.
Reputation Management
In 2022, Denton consumers are smart enough not to do business with lousy service providers. But how do they know who's good and who's bad? It's easy with online review platforms like Google Business Profile and Yelp. Accumulating reviews on Google and Yelp is critical to increasing online conversions for your local company. Our in-house tool DataPins sends review requests and showcases feedback on your site.
The Most Affordable SEO Company in Denton
DFW SEO offers month-to-month agreements, which include full-service SEO and digital marketing. As a result, our clients are never locked into a long-term contract and can evaluate our agency's performance each month. In addition, our monthly reporting services ensure transparency.
Ultimately, our monthly rates are more affordable than elsewhere in the marketplace. You can easily spend $2,500 per month on SEO services, but the ROI is often minimal. One study found that 70% of businesses are unhappy with their current SEO provider. DFW SEO makes it affordable.
The Proven Denton TX SEO Strategy
Our agency follows a proven strategy based on decades-worth of data. We continually evaluate our numbers with hundreds of satisfied clients on board to find further improvement opportunities. Please take a look at our tried and true SEO process for Denton, TX businesses.

Step 1: Keyword Research
Our team uses SEMRush and Moz to identify high-opportunity keywords for your business. We look at your industry, competitors, and areas of expertise to choose target keywords. At DFW SEO, keyword research goes far beyond volume, as intent, competition, and local identifiers significantly define tangible keyword value.
Step 2: Site Structure
After researching keywords, we map them within a site structure and architecture designed to maximize website traffic. For example, a service page about Denton AC repair will also have a child page about emergency AC repair. Since these pages target different keywords under the same general topic, they are grouped for user experience and SEO purposes.
Step 3: Implementation / Publishing
Finally, our team publishes your new SEO site structure within your custom website design framework. Our content writers produce high-quality service pages that follow your structure to a tee. In addition, our team members meticulously insert keywords within titles, meta descriptions, and image alt text.
Denton SEO FAQ
How Long Does SEO Take?
Depending on your domain age and indexing, it can take six weeks to six months. However, our team does a great job targeting long-tail keywords so that brand-new domain names can still rank on Google. 
What is Local SEO?
Local SEO refers to rankings on Google Maps and Google's Local Map 3-Pack. For example, the 3-Pack appears in search results for queries like plumbing company denton, or denton plumbing repair. In addition, the local algorithm looks at proximity, relevance, and prominence for your Google Business Profile.
How Much Does SEO Cost in Denton?
DFW SEO offers affordable monthly rates for Denton business owners. The exact fee is based on your industry and how many pages of content you need to rank for your target keywords. Regardless, our prices are far more affordable than the industry average.