Mental health professionals who invest in Local SEO for Therapists are 317x more likely to generate consistent clients online. Still, many in the mental health industry lack awareness of search engine optimization.
What is Local SEO for Therapists?
Local SEO for therapists targets local mental health keywords through website development, content publishing, and Google Business Profile optimization. Typically, Local SEO helps therapists rank on Google Maps.
The Importance of SEO for Mental Health
Gone are the days of scanning the yellow pages for therapists, couples counselors, and addiction specialists. These days, if you don't have an online presence as a therapist or mental health professional, it might as well be like you don't exist.
Whether your practice is in a small town or metropolitan area, you should invest in SEO to maintain a steady stream of clients. Once you establish a local online presence, you can build your reputation through online reviews.
In the following guide, Dallas Fort Worth SEO addresses the SEO needs of an often overlooked group of professionals: therapists. This Local SEO guide for therapists aims to inform mental health professionals in 2022.
Local SEO Pillars for Therapists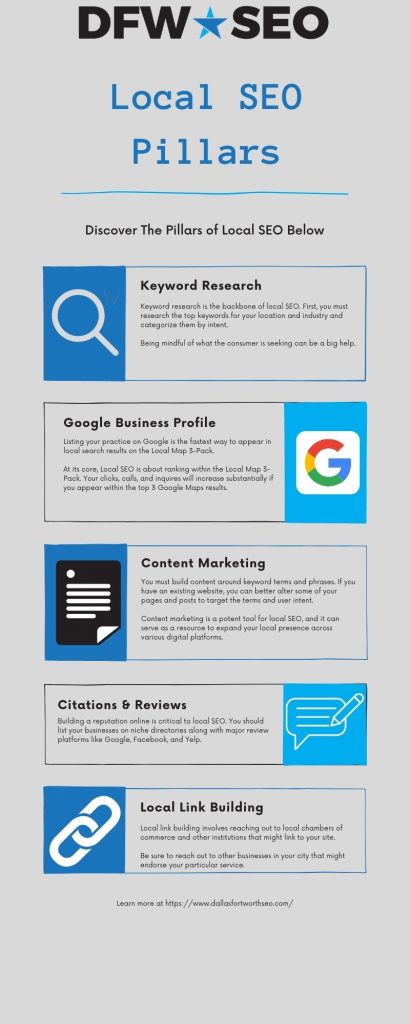 Just like any other industry, your therapist SEO journey needs to start with good keyword research. Keywords are one of the most fundamental SEO ranking factors.
From there, you progress towards other implementations like website development and content production. The ultimate goal is to generate traffic that converts into new clients.
Therapist Keyword Research
Keyword research is the backbone of local SEO. First, you must research the top keywords for your location and industry and categorize them by intent. Being mindful of what the patient is seeking can be a big help.
For example, many people will search things like therapists in Tempe. Still, they intend to find the price of a therapist, the process of a typical therapist, average therapy session length, what a therapist can help with, and so on.
Use keyword research tools like MOZ, Ahrefs, and SEMRush to find keyword volumes and difficulties. Remember, though, some of your best keyword opportunities come from your own experience with past patients.
Top 10 SEO Keywords for Therapists
therapist near me
mental health therapists near me
mental therapy near me
therapist near me for depression
how to find a therapist with my insurance
weekend counseling near me
therapists with weekend hours
social anxiety therapist near me
therapist for anxiety and depression
anxiety therapist near me
Google Business Profile
If you perform one action for Local SEO, it should be Google Business Profile optimization. This is because listing your practice on Google is the fastest way to appear in local search results on the Local Map 3-Pack.
At its core, Local SEO is about ranking within the Local Map 3-Pack for relevant keyword terms. Your clicks, calls, and inquires will increase substantially if you appear within the top 3 Google Maps results.
Creating a Google Business Profile is free. From there, make sure to verify your listing via postcard and update your profile with images, hours of operations, and frequently asked questions.
Content Marketing
Once you have target keywords, you must build content around those terms and phrases. If you have an existing website, you can better alter some of your pages and posts to target the terms and user intent.
Content marketing is a potent tool for local SEO for therapists. As we touched on earlier, people are looking to be educated on mental health issues online for the most part.
By providing the information they need, you make it much more likely that they will turn to you when they are ready for therapy. Consider implementing the following:
Blog Posts: Structure blog content around keywords that you want to rank for and include them naturally, flowingly, and organically into your blog content.
White Papers: Educational white papers are a great way to generate therapy leads and increase your search engine rankings.
Social Media Posts: Social media posts about mental health can be beneficial for local SEO. You can share blog posts, post polls, ask provocative questions or entrench yourself in communities related to mental health.
Citations and Review Platforms
In contrast to other industries, therapists should not solicit reviews. Still, it is vital to list your practice on all of the mental health review platforms. You should also make sure the claim your Google Business Profile and list your practice on Psychology Today.
Google Business Profile
GoodTherapy
HealthGrades
ShareCare
Psychology Today
Yelp
Online reviews can provide a haven for other people while maintaining their anonymity. For this reason, it helps your local SEO to be present on review websites like Google My Business, GoodTherapy, and even Yelp.
Local Link Building
The more websites (that aren't your own) that point to your website, the more it signals to Google and other search engines that you have something of value to offer their users.
Off-site links build your web authority which is excellent for SEO. Start with local business directories and try to get your site listed with them. Ask other professionals in your city to consider linking to your website.
As a therapist, you may appear in one or more medical or research journals. Make sure to list your website with these publications as well. You can also reach out to colleagues in other cities or disciplines.
How Local SEO Connects Therapists With Clients
SEO is a popular industry that helps businesses improve their online presence and grow their company. However, therapists' relationship with the internet is incredibly constructive in enhancing mental health crises.
Here's why:
Online Research is Anonymous
Many people are reluctant to talk about mental health issues. They fear ridicule or judgment from their peers, so it's not like there are droves of patients asking their friends and family to refer them to a good therapist.
For better or worse, many people take to the internet to search for local therapists to avoid embarrassment.
People Seek Information Online
Content marketing is a massive part of local SEO for therapists. It involves composing quality online content that either entertains or informs visitors.
Therapists creating content (blogs, video content, infographics, etc.) is educational. Why is this important? Because many people also take to the internet to learn more about mental health conditions and treatments.
A large portion of your potential clients performs their own research online. So you must ask yourself, "are they finding my content?"
SEO Builds Trust
For many people, the ability to trust a therapist is paramount. Therefore, practices that are good for SEO are also good for your therapy practices.
Posting bios, credentials, pictures, and personal messages are great opportunities to include keywords that will boost your SEO. These methods also create trust between you and your prospective clients.
Reviews and reputation management are powerful SEO tools. Patient reviews can also do a lot to make a potential patient more comfortable with you.
As you can see, SEO plays a dual role by increasing your online presence and allowing patients to get a better feel for your practice.