Dallas Fort Worth SEO
We are the number one Dallas SEO company in the Metroplex. As a team of dedicated marketing experts with diverse skills, we help small business owners improve their web presence and generate more leads. In today's highly competitive online marketing landscape, successful business owners devote considerable resources to establishing and maintaining a credible digital presence. Typical clients see increases in the following areas:
Conversions
Leads
Search Engine Rankings
Website Traffic
DFW SEO has worked with industries of all types and welcomes business owners of any service trade. By providing the full spectrum of internet marketing services,no aspects of your presence is neglected or left unattended to. The result is a robust online standing that helps your business rank toward the top of SERPs for relevant queries, and ultimately generate more leads and revenue. Call 800.231.4871 for Dallas SEO services.
How We Improve SEO for Dallas Business Owners
Some companies mistakenly believe SEO is a singular and tangible object which can be executed in a linear progression. Wrong. SEO or search engine optimization, is a process that involves a variety of tasks and techniques, each of which should be implemented cohesively for best results. When potential customers ask us for a single service like blogging or web design, we explain that these services have no exclusive value. To succeed online, SEO services must encompass all of the following:
Content Marketing
Keyword Placement
On Page Optimization
Off Site Optimization
Schema Markup
URL Structuring
Website Design
The Dallas Fort Worth SEO team includes in-house experts in each of the components listed above. We don't outsource content or web design to 3rd party companies, but instead handle all of it under a single roof. This way, when customers request changes or explanations, we can provide them with clarity and definition. Sure, we could perform a single task on your company's behalf, but we'd opt against it for ethical reasons. Providing a service like blog posts only, would only hurt your overall internet presence and limit our ability to improve your standing. Call 800.231.4871 to schedule a free phone consultation with our Dallas SEO company.
Statistics and Measurement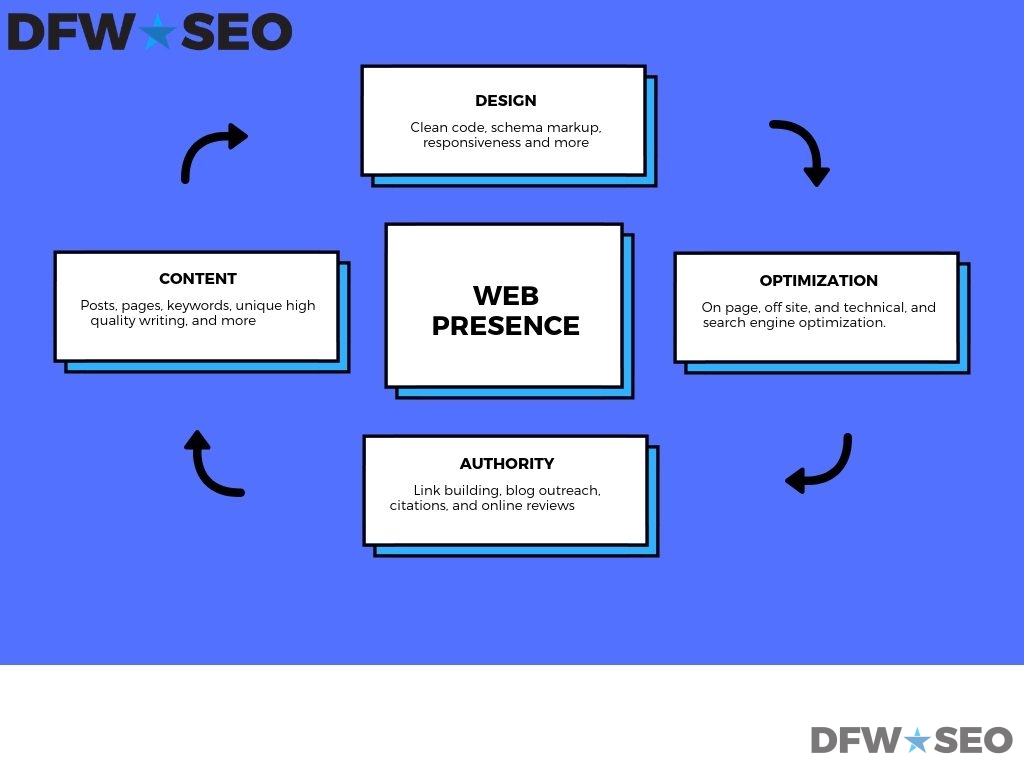 Oftentimes marketing firms seem like they're performing well, when their true impact is virtually non-existent. To understand whether or not your marketer is doing excellent work, you must know which metrics indicate performance. KPI's or key performance indicators are metrics that illustrate the level of competence of the analyzed party. For example, conversions increasing by 175% within 6 months is an encouraging sign. Conversely, an increase in traffic without leads is a sign of what many call "empty numbers" which means they might be attributed to the marketer, but have no true value to the client. Consider the following KPI's for SEO marketing:
Conversions: The most decisive indicator of performance
Leads: Indicative of a well designed conversion funnel
Ranking: When associated with relevant keywords, improved rankings are a quality indicator
Traffic: Only meaningful in context, when traffic sources are revealed
By signing on with DFW SEO, your progress will be well documented so that you never have to guess how your website is performing. We provide intuitive statistics to help clients accurately gauge our performance along with their own. Some aspects of SEO fall on the shoulders of the client. For example, generating reviews for your business by asking for them from customers is something a marketer cannot do for you. What we can do however, is make it easier for consumers to leave feedback. We follow this very creed through website review integration which prompts website visitors to leave a review via Google or Facebook, directly from your website. This saves many customers the hassle of finding your review page and increases the probability of a documented testimonial. Call 800.231.4871 for SEO for Dallas small businesses.
Search Engine Optimization (SEO) is not a singular concept or entity. Instead, SEO involves a wide range of internet marketing tasks and techniques, each of which contribute to a strong web presence. At Dallas Fort Worth SEO, our team is diversely skilled to handle all of these components, in house! We don't outsource our work, so that we'll have informed answers for clients and make changes as needed. Join Today!