As a small business in Dallas, TX, you've likely heard of "SEO" but do you know what it actually means? SEO stands for search engine optimization and refers to the refinement of digital content in order to improve or sustain rankings on Google search. Going down the SEO rabbit hole can have your head spinning like a top … so the great folks at Dallas Fort Worth SEO have decided to focus on 6 tips that best embody the basics of search engine optimization. We hope you use these tips to bolster your online presence in Dallas and Fort Worth, and earn more leads.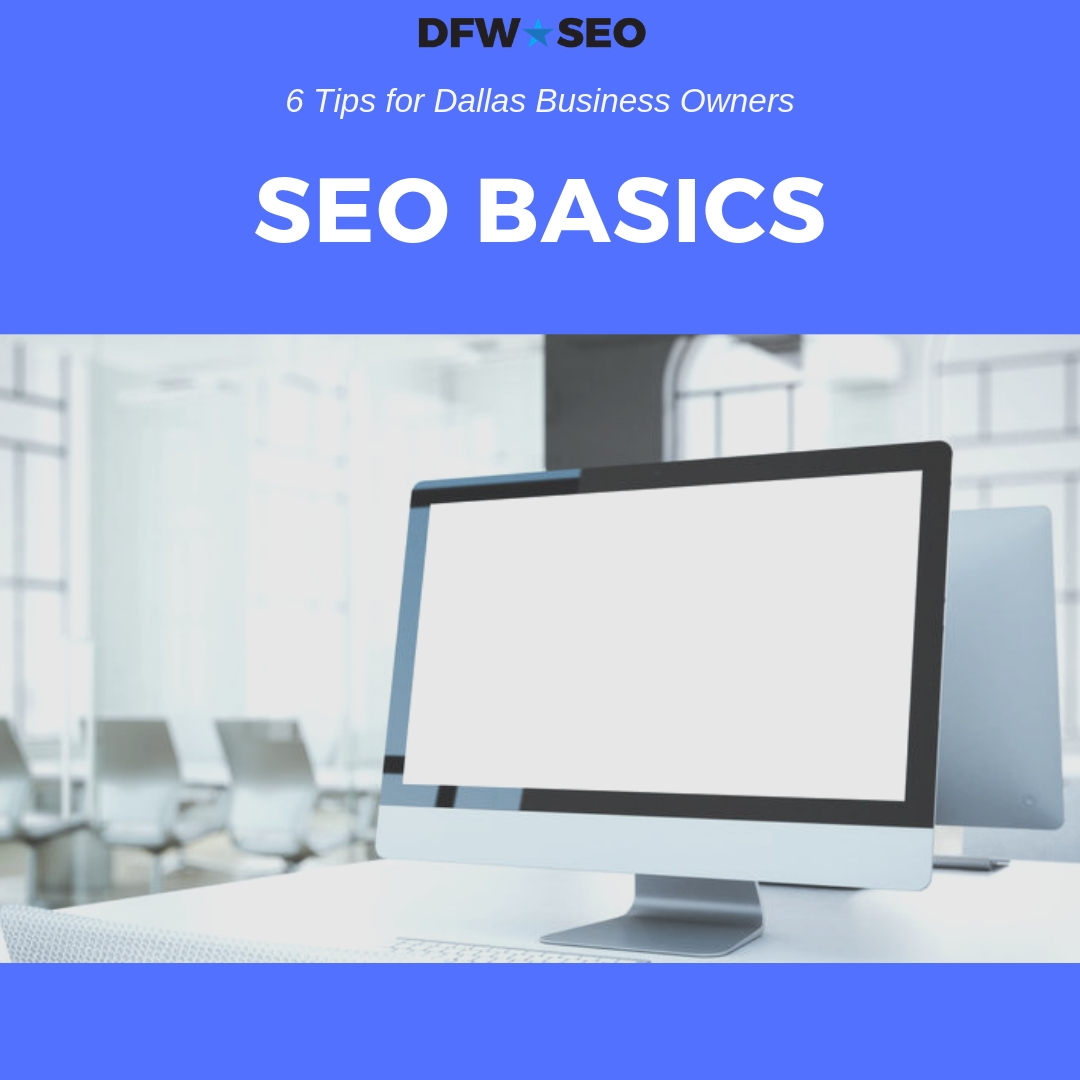 Tip #1 – Claim & Optimize Your Google My Business Profile
If you could choose only one digital marketing task to perform, it should be the claiming & optimization of your Google My Business profile. In 2019, a Google homepage is even more important than your actual website. A Google homepage is what customers see when they type your brand into Google. If you've properly optimized your profile, they will see your company logo and business hours on the top right of the page, which is known as the knowledge graph. In an ideal scenario, your profile contains customer reviews so that users can view your aggregate star rating. The more positive reviews you have, the more consumers trust your business. Claiming & optimization involves the following:
Address Verification
Company Branding
NAP Information
Review Generation
Reviews are very helpful in optimizing a GMB profile but generating them is not always easy. That's why you should create business cards with links to your review profiles on Facebook and Google. You should also place these links in your email signature so that clients see them when corresponding with you our your employees. You should even go as far as asking loyal clients if they can provide feedback through Google, Facebook, and Yelp. Be careful not to incentivize reviews because Google well penalize you if you're caught. Avoid asking for reviews from former clients who think poorly of you or your service.
Tip # 2 – Buy a Dot Com Domain Name
We've all seen sites like myfakedallasbusiness.biz. They look sketchy to both users and search engines alike. The z at the end of biz reeks of malware, and everybody knows it. That's one example of a non dot com domain name that is bad for SEO. Another would be myfakedallasbusiness.weebly.com. While it is technically a dot com website, it is actually a subdomain. This means A) you didn't buy it (Weebly owns it) and B) it looks incredibly unprofessional. This tip recommends you actually buy a dot com domain name from a real hosting provider like GoDaddy or Bluehost. When you choose a domain name, you want it to be topical, readable, and memorable. Keep it simple. Here's why dot coms are necessary:
Aesthetics
Convenience
Reputation
Trust
The aesthetics of a domain name are more important than you think. When a user looks up at the address bar and sees something that looks suspicious, they immediately exit out in many cases. This increases your site's bounce rate which is strongly to believed to be a major Google ranking factor. When people leave your site quickly it signals to Google that they don't trust it. That brings us to two of our other listed factors; reputation and trust. Dot coms exude both of these qualities to the users. As for convenience, dot coms are second nature to 99% of internet users. If they know your brand name, they are almost always going to think of it as a dot com.
On the other hand, dot nets are often confused with dot coms, and can cost a business valuable traffic.
Tip #3 – Publish Original Content
Scraped content is a big problem on the web and one of the main reasons sites fail to rank well online. Google explicitly states that they prefer content that is unique, valuable and engaging. Copying content from external domains and publishing as your own is not only plagiarism but it is the antithesis of SEO. Google can immediately distinguish copied or scraped content. So what's the difference between copied and scraped? Copied text is identical. Scraped text might be altered in some way, but still holds the same general patterns and many similarities. Don't think you can fool the search engine this way. Instead, write content that is
Engaging
Relevant
Unique
Valuable
You may feel that you don't have time to write content for your website. There are marketing firms that provide content marketing services for Dallas businesses. In fact, Dallas Fort Worth is one of those firms. We believe that content quality is a fundamental component of SEO success. For content to be considered high quality, it must not only be grammatically correct, but also highly relevant to the website's general subject. If your business belongs to specific industry, the content must accurately depict its intricacies. Readers can tell the difference between good and bad content fairly easily. Google values the highest quality content.
Tip #4 – Hire a Web Designer
We've seen an emergence of do-it-yourself website builders in recent years. They're thought of as solutions for small business owners both in Dallas and throughout the world. While we aren't outright condemning their existence, we know first-hand that they lack the SEO potential of an original web design. That's why we recommend hiring a Dallas web designer to handle your custom business website. Many things go into a website that happen behind the scenes. Aspects of this process are known as technical SEO, and without it, your ranking potential is severely hindered. Here are some reasons why you should hire a professional web designer:
Coding
Originality
SEO
Navigation
Pre-made templates are cheaper right off the bat, but once you get 6 months to a year later, you've ended up losing far more money than you would've spent. Trying to nickel & dime your way to the #1 Google spot is not realistic. But it makes sense why some businesses would find the cheapest option appealing. They feel like they're cutting costs. But in 2019, it seems that many owners are smartening up and understanding that proper marketing is actually critical to their bottom line, and digital marketing is at the forefront of all of that.
Tip #5 – Use Keyword Research Tools
Keywords are still fundamental to proper SEO but their dynamic has changed significantly in the last 5 years. It used to be that keywords were really the only way for Google to interpret the content of a web page. This is no longer the case. Google still needs to see keywords to properly rank the page, but it now wants to see supporting synonyms and a robustly written page of content that surrounds those high volume terms. Better pages are more readable and are therefore more valuable to the user. Since Google prioritizes the user first and foremost, they will support pages that satisfy user needs. Utilize the following tools for keyword research:
LSIGraph
MOZ Keyword Explorer
SEMRush
UberSuggest
Some of the tools above might look familiar, others might not. LSIGraph is a nontraditional keyword research tool that provides terms and phrases that are semantically related to primary keywords. We touched on the need for synonyms in high ranking page content, and LSIGraph is a tool to help you integrate those kinds of words. MOZ & SEMRush are more traditional tools that provide the volume and opportunity for keywords, along with suggestions. UberSuggest is a free tool that emulates SEMRush. It is not quite as accurate, but good for Dallas business owners who don't have money to spend on a research tool.
Tip #6 – Create Inbound Links
There was a time during Google's early onset were the only measure of a website's authority was the quantity of inbound links pointing to its domain. Google has gotten much more sophisticated about judging links these days, but make no mistake, they still make a major difference. Today, it's not as much about quantity (all though that still matters) as it is about quality. For instance, a link from a Dallas trade association to your local business is more valuable than a random blogger from Canada. Why? Because the former example signifies relevance and transfers authority. The latter is really nothing more than an inconsequential reference. Here are some platforms through which to build inbound links:
Business Directories
Guest Blog Posts
Press Releases
Trade Associations
The best way to earn links in 2019 is to produce excellent long-form content. These content pieces have a great chance to go viral, especially when pushed through social media channels like Facebook, Twitter, and even LinkedIn. One way to increase the virality of content is to utilize video and audio integration. Try embedding videos from YouTube onto your blog posts for demonstration purposes. As for business directories, look to BBB, Yelp, and other highly renowned platforms to build a profile. In most cases, you can claim your free profile on directories like these. While they don't have the same "link juice" as a guest post for example, they still transfer authority. Some links automatically have nofollow tags, which means they count less towards domain authority.
For Help With Dallas SEO, Call Dallas-Fort Worth SEO at 800.231.4871