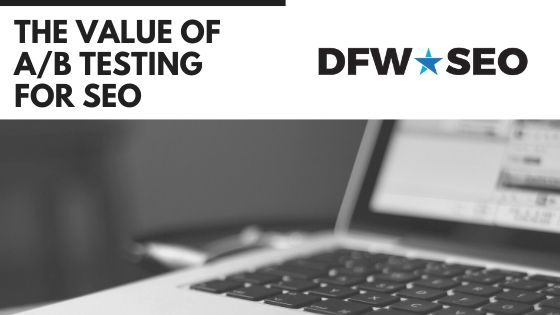 You might be struggling to get traffic to your website from Google and wondering what you can do about it. And the truth is that you are not alone. There is one report that has found that 91% of content gets exactly zero organic traffic. If you fall in that range and have been executing an SEO strategy that you had hoped would work, this can be especially frustrating.
The good thing is that you don't need to completely overhaul your entire SEO approach to begin seeing results. There is a way that you can run experiments to find the right optimization without having to sacrifice the number of rankings that you have established or change your website entirely.
The answer is A/B SEO testing.
What can you test with A/B Testing?
There are a wide variety of on-page SEO elements that you can use to form the very foundation of your A/B experiments. Things like URL structures, headlines, meta titles, calls to action, sales copy, images or videos, product descriptions, and standard descriptions.
Rewriting most of or all of your content would not be a good way to run the test since it would invoke the content freshness algorithm that Google implements. You could try to implement your test by doing varying product descriptions. One page would be a standard 150-word product description while the other would be a redirected duplicate of the page with a 400-word product description.
The A/B SEO testing allows you to find out what the ideal length of your product description should be before having to commit to writing those extra 150 words for each product. Basically, you are finding out if it's worth it or not. This can be hugely helpful.
Why should you bother with SEO testing?
This is a seemingly smart question because, really, no one wants to have to put more work into something than is necessary. But the idea with split testing your SEO strategies is that it will save you time as well as money. Sitewide changes require not only a lot of time, but a big investment, but an SEO strategy that is not working needs to be changed.
This is also a huge risk: without understanding the full potential impact that making those changes could have on your website as a whole. You run the risk of losing the results (even if they are small) that your SEO results have been generating. Even if you only have something like 50 keyword ranking positions, you definitely do not want to lose those.
A/B testing can also protect your website from potentially being negatively impacted by something that is outside of your control. The fact of the matter is that Google is constantly changing its best practices and can almost make changes overnight. This actually happened pretty recently when Google implemented their EAT (Expertise, Authoritativeness, Trust) release: it caused several of the more well-known healthcare sites to lose around half of their organic traffic.
Being aware of algorithm updates can be helpful so that you can split test features that are being prioritized in the new updates. This way, you can know how your website will be impacted by these updates rather than waiting around and seeing, which might make it too late.
Pick your hypothesis
Each and every A/B test has to start with a hypothesis; that is, a single statement that explains the result that you are expecting to achieve. Usually, this is in an if/then kind of statement. Things like:
If I add more videos on my website, then my bounce rate should go down
If I include a power word in my meta descriptions, then my organic CTR should see an increase
If my URL structure becomes shorter, then Google should be able to understand the content on my page more easily, which would rank my shorter URLs much higher in the SERPs
Having a hypothesis for your A/B test is important because it then gives you a more thorough understanding of the kind of results that you are hoping to see. When you focus on the expected outcome, you test to see if your initial expectations are accurate.

How to run your A/B test
There are a few different avenues that you can run your standard A/B test through. The first is Clickflow. It is a tool that is designed to make the SEO experimentation process easier than ever. What it does is it syncs with your Google Search Console account in order to find the opportunities where there is a high impression count yet a low click-through rate.
All you need to do with Clickflow is to go to the New Test button and select whether you are using a single URL or a group of them. Then, name your test and add the pages that you want to test. What is great about this is that it suggests SEO experiments that you may have missed.
There is also Google Optimize. There's a pretty chance that you already have a Google Analytics account which you use to track your SEO strategy results. Build on this by using Google Optimize, which works with Analytics to run you're a/B tests on a certain web page.
Google Ads is also another possibility as SEO can take a long time before it starts to pay off. With Google Ads, you can track and map changes before you start to see the organic changes, which can take a long time to see. This can be achieved through Google Ad variations. You can change the text on your campaigns or swap out the text, which allows you to perform the A/B test to see which copy will work best for what you are trying to achieve.
Ultimately, A/B testing is a great way to find out if you can implement changes to your current SEO strategy without having to completely re-do your entire website or rewrite all of your content. It is a tool that can save businesses a lot of time and trouble.