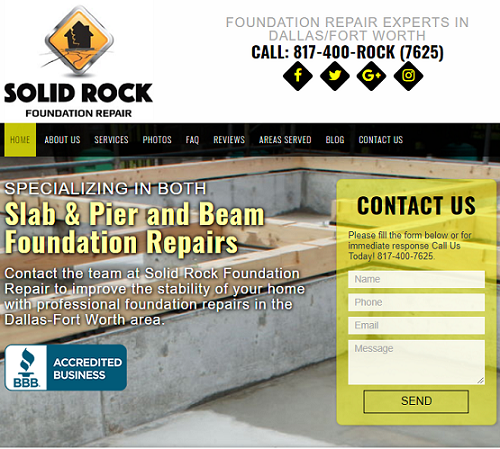 Standing Out in DFW Business
There are hundreds of factors that contribute to your DFW SEO success. Keyword strategy, for instance, allows your business to show up in local search. But few things impact your user experience more than website design, for better or for worse!
Today, we'll explore three broad areas of website design and how your DFW company can succeed. Pay special attention if you're looking to create a fresh business site in the near future. Let's get started!
Area #1: Branding and Styling
One of your most important assets as a company is your logo. Just as it needs to be visible on your trucks and physical address, your roofing logo should be immediately visible in your website design. The average site user creates their very first impression in only 0.05 seconds (SWEOR). That's barely enough time to blink, let alone read through your content.
So what elements influence this initial impression (for good or bad)?
Logo Placement & Visibility
Imagery – Professional vs Amateur
Spacing – Overcrowded or Relaxed
Color Scheme – Pleasant or Clashing
Contact Information and Address Visibility
Homepage Header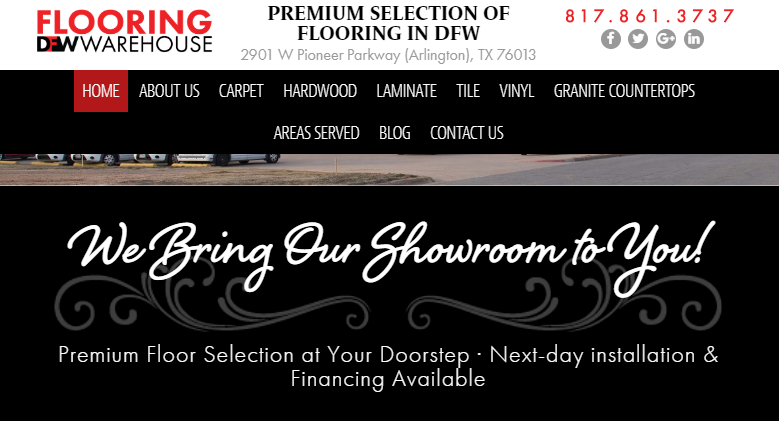 The above website design shows careful consideration of both space and coloring. Despite having more service categories listed than normal, DFW Flooring Warehouse still manages to prevent the page from feeling too cramped. That's quite the accomplishment, especially when most other business websites try to pack in as much information as possible above the page fold.
Adapting to Mobile Devices
Most online traffic goes through mobile devices these days. Think of all the screen time you put into your phone every week, and you'll quickly understand why mobile optimization isn't something businesses can afford to mess up. If your company website doesn't fit into the mobile-friendly mold, odds are your would-be customers are leaving to look for more convenient options. The company brand and phone number should be clearly displayed at the very top of the page.
In the example on the right, DFW Flooring Warehouse carefully adapted their homepage for easy reading and scrolling. The call to action (CTA) is clearly visible, a crucial point we'll discuss more later. The drop down menu also provides a simple connection to the user's desired service(s).
Unfortunately, many businesses fail at mobile-friendly website design. Even when they utilize a template that boasts easy mobile conversion, roofing contractors overstuff their homepage. The end result is an awkward user interface that potential customers speedily run away from.
Area #2: On-Site Navigation
Nothing frustrates a would-be customer more than struggling to find their desired services. Failing to find a desired service/product definitely leaves a bitter taste in your mouth, whether shopping in a store or online. Careful planning however, will protect your website from driving customers away.
It all starts with the top level menu. Most businesses rely on a bar menu that converts into dropdown list of services. This makes navigation simpler, especially on mobile devices with limited screen space. Unfortunately, many companies overstuff their menu. Excess services and city pages only drive people away from your site. If you're developing a brand new website, try to stick with a handful of your most popular service categories! Dropdown menus may help conserve space, but cramming them with slightly altered service titles covers up valuable space on your homepage and service pages.
Additional Navigation Elements
The dropdown menu isn't the only essential tool for guiding your user journey. Timely link placement in your service pages also makes it easier for people to find more specialized solutions. Schema lists provide an outstanding way to group similar services together for fast browsing.
Perhaps the greatest navigation tools (beyond your dropdown menu) are pictured category tabs.
While a picture may be worth a thousand words, you can also customize these tabs with a short description of the service category. It's a fantastic way for site visitors to rapidly process information about your company! Remember how quickly people form first impressions regarding your site? These category tabs help ensure that first interaction with your website is refreshingly positive.
Area #3: Calls to Action (CTA's)
Did you know that it's 100 % okay to tell people what to do on your website? Roofing contractors put in hours and hours of work customizing their website design, only to turn gun-shy when the time comes to place the calls to action. That may be the single greatest mistake in SEO for roofers, which also makes it the most crucial opportunity for easy improvement.
Even if you don't have experience with schema coding or graphic design, there's simply no excuse not to put in a simple "Call Now." button.
Don't think calls to action are only meant for the page tops or homepages only. With careful planning, you can provide consistent calls to action both in the content and in the page borders. Try to figure out in advance what you desire most from potential customers.
Potential Calls to Action (CTAs)
Phone Calls
Texts or Facebook Messaging
Page Clicks
Emails
Reviews
How to Style a Call to Action
Optimizing your CTAs is a huge part of SEO for roofing, and one of the single most influential factors in your conversion rate. Your goal should be to make the call to action clearly visible no matter where it's located. In the example below, the lawn care company simultaneously maintains its color scheme and highlights the CTA by making it a closing header. That's one easy way to command attention at the end of a page or blog post!

Even if you decide to make direct messaging your preferred form of communication, it pays to reinforce your CTAs with both your brand and your company number. This allows people to reach you quickly, instead of wandering around the site looking for a contact link.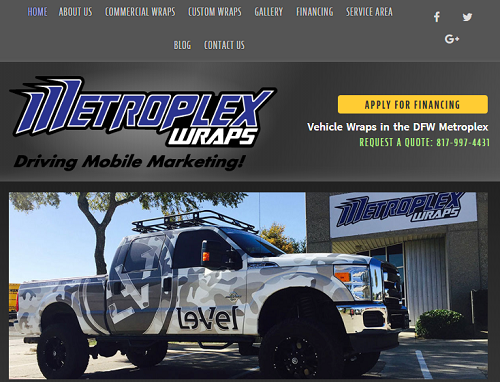 Consult DFW SEO for Your Website Design!
Need a professional hand with your company website design in Dallas-Fort Worth, TX? Our team at DFW SEO would love to partner with you and create an attractive, search-optimized website! Our clients dominate local search results in their service areas, earning better traffic and higher quality leads as a result. See how your company can grow! Get your free consultation with a local SEO expert at (800) 231-4871.