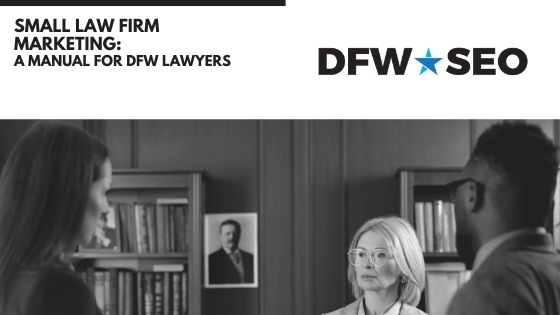 Small law firm marketing can be a challenge because chances are, you won't have the hundred thousand dollar marketing budget that the significant form down the street has. But digital marketing has leveled the playing field to some degree.
More money will help you with marketing, but the good news is that you don't have to have a huge budget to get your small law firm noticed by more potential clients. We know this firsthand here at DFW SEO, and in the following post, we will show you some steps you can take to market your small law firm and get your name out to more people who need your services. Let's start with the basics.
What is a Small Law Firm?
A small law firm consists of around 2 to 12 practicing lawyers. Generally speaking, if your firm specializes in one area of the law, it is probably a small firm. And it's essential to market your small firm to sign more cases properly.
Why do Small Law Firms Need Marketing?
Small law firms need effective digital marketing strategies to get themselves noticed by the local public. Consider the following statistic: there are over 12,000 practicing lawyers in the Dallas/Fort Worth area. That's a lot of lawyers and firms that are saturating this primary metropolitan market. It's hard for small firms to get noticed when so many firms are active in the area.
That's why small law firm marketing is so important. It helps your firm acquire more customers through sustainable means. But now, let's ask the all-important question: how do you market a small law firm?
A Guide for Marketing a Small Law Firm
There is some overlap when you are talking about digital marketing in different industries. For example, whether you are a lawyer or a restaurateur, you will need the same basic marketing things. These things include a robust website with adequate security and fast loading times. But we don't want to focus too much on the ordinary things in this post because we are specifically talking about small law firms in the Dallas/Fort Worth area.
And while these basic marketing strategies take the first precedent, we will assume that you already have a decent website and a social media presence. Next, we will skip ahead to the digital marketing strategies that are specifically relevant and important for small law firms.
Focus your Services: If you practice a specific niche branch of the law, you will want to focus on that in your marketing campaigns. While you may offer more than one type of legal service, it's a better idea to target a specific audience to start with, at least. If you specialize in family law, focus on that. If you handle criminal law, focus on that. And what do we mean by focus? Read on.
Create Relevant Content: Content marketing is wildly influential in today's world. 70% of consumers report that they would prefer to learn about a business, product, or service through some form of online content than through an ad. You can leverage this trend to market your specific legal niche and audience. To take an example from the last point, if family law is your specialty, create blog content revolving around topics related to family law. Video content is also useful, but you have to make sure it revolves around your things in one way or another.
Leverage External Links: Again, if family law is your expertise, become a fixture with local family service organizations. Then ask them to include a link to your official website on their websites. External link signals are significant criteria for search engines, and the more you have, the more you will get your firm noticed. You can also request external links with any legal organizations or professional networking groups.
Longtail Keywords: Once again, you should lean into your specialties. Google will still rank your website high if you aim at smaller, more specialized keywords and services. For example, including precise keywords in your website's on-page content like "family law in Fort Worth" or "divorce attorney in Irving" can help you rank higher for your niche services. Notice that the longtail keyword examples we just mentioned include specific services and geographic areas.
Respond to Reviews: People need to feel that they can trust your law firm and form relationships with the people representing them in the courtroom. Reputation is especially critical in the digital age, where 84% of consumers rely on strangers' online reviews. But responding to customer reviews of your law firm takes it a step further. It lets people know that someone is reading their reviews and lets potential clients know that you value their experience.
PPC: PPC stands for pay-per-click, and it can be a beneficial form of advertising for small law firms. You can target who sees your ad depending on the types of searches they enter in Google or Bing. So if someone searches for "divorce attorney in Dallas," your ad (including a link to your site or landing page) can show up to interested parties. Then, you only pay any time someone clicks on the ad.
Get Noticed in Dallas/Fort Worth
Here at DFW SEO, we specialize in increasing your law firm's consumer awareness in the Dallas/Fort Worth area. We do this by combining lawyer SEO, content marketing, web design, and PPC strategies. If you are struggling with small law firm marketing, we want to help. Discuss an effective marketing strategy with us today.