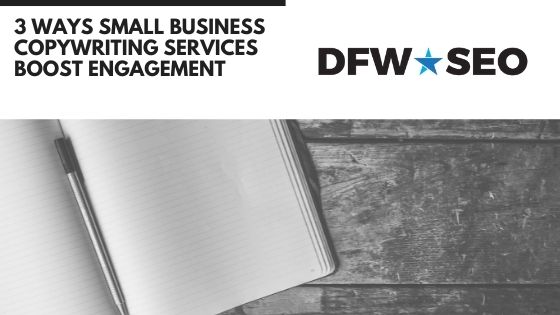 As a small business, copywriting services are essential to success. Whether it's website pages, blog posts, or print materials, you will need copy to promote your business.
Google and its users can tell the difference between good and bad content. Unfortunately, SEO agencies often make the mistake of writing content strictly for SEO purposes. At Dallas-Fort Worth SEO, we know that doesn't work.
Search engines want to find answers quickly, but they also wish for valuable and well-written content. Your goal as a small business is to achieve both of these goals simultaneously.
In the following post, DFW SEO explains copywriting some critical ways by which it increases customer engagement.
What is Small Business Copywriting?
Copywriting is written content used to promote your business, increase brand awareness, advertise, or otherwise connect with your customers. Small business copywriting contrasts other writing styles in that it focuses more narrowly on customer acquisition and conversion.
Small Business Copywriting Examples
Copywriting is necessary for various small business materials, both digital and print. Below, you can look at some common areas that require professional writing services.
Email Marketing
Email marketing tools are essential to modern businesses. You can remind customers of appointments, upsell new services, and offer discounts and promotions via email. Each email template needs a high-quality copy.
On-Site Content
Every piece of written content on your website is an example of copywriting, from your home page to blog posts and service pages. The best websites have great content, which helps them earn 3rd party links.
Social Media Posts
Do you post to your company's social media pages? If so, then you have been a copywriter. Facebook, Instagram, YouTube, and Linkedin all rely on good writing in some capacity.
White Papers
Sometimes, business owners will opt to offer a white paper to consumers in exchange for contact information or to establish trust and authority. Everything written in the document can also be considered copywriting. 
Increasing Engagement With Copywriting
You are probably getting a general idea: small business copywriting is any writing you do to promote your business or land new customers. However, the quest for landing new customers starts with customer engagement.
Some engagement must occur before a lead can turn into a paying customer. Whether it be clicking on your PPC ad, re-posting one of your Facebook posts, or scheduling an appointment for your services.
Small business copywriting is an essential and powerful tool for customer engagement. Let's take a look at a few ways copywriting affects customer engagement:
1) Emotional Engagement
You will not always need to appeal to your customers on an emotional level. Still, it is a very effective way to engage them when the time is right. One of the most viable platforms for emotional copywriting is promotional content.
You can appeal to emotions by describing a common problem that your customer base is likely to have in detail. Then, you write about how your service can solve that particular problem.
In this sense, you aren't so much writing about how great your company is. Instead, you relate to the customer with a common problem and offer a solution. Successfully relating to customers by speaking to their needs is an effective way to engage them.
2) Topical Engagement
A huge part of customer engagement is online visibility. You need to be seen by your potential customers if you want to have any hope of engaging them and turning them into paying customers. One of the most powerful tools to increase online visibility is keyword usage, a significant SEO aspect.
Without getting too much into detail about SEO, keyword usage will help your written content get found by your target audience. Start by doing keyword research to find out what phrases your target audience uses to look for services you offer.
Then, use those keywords in your website's written content, blog posts, social media posts, and even in the description of any videos you post online.
3) Content Quality Engagement
Last but not least, blogging is one of the most effective means of content marketing and customer engagement. The best thing about blogging is leveraging the industry/trade knowledge to create valuable content for the consumer.
And it's all about creating valuable content. Write about what you know in a way that offers valuable insight or lessons to your target audience. "How-to" blog posts are viral among consumers, as are "Listicles" like what you are reading.
Here are some more tips on how to optimize your blog posts.
Blogs drive customer engagement by giving them something of value. Value establishes you as an authority in your field and fosters trust in your target audience. Plus, structuring blogs around keywords and writing good, valuable content will also help boost your online visibility.
Investing in Small Business Copywriting Services
Small business copywriting could be the missing link to the success of your fledgling company. The numbers don't lie. An estimated 82% of professional marketers utilized content marketing in their client strategies.
Copywriting is the backbone of content marketing. Content marketing is a must for any small business looking to stay competitive. Writing can be challenging for people, though. The good news is that copywriting isn't the same as writing in school.
Small business copywriting is indeed crucial to the success of your business. Here at Dallas Fort Worth SEO, we offer professional copywriting services and many other online marketing services.
We have everything you need to successfully promote and grow your Dallas/Fort Worth area business at the end of the day. We have experience working with small businesses in the Dallas/Fort Worth area. We can help you realize your professional dreams, so call us today!