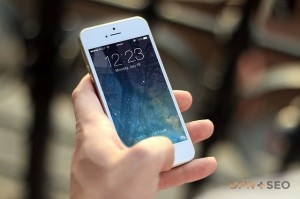 Every single website we create has a responsive design. A responsive design allows a website to be viewed on any mobile device with equal ease. We provide responsive design services in Dallas / Fort Worth as a part of our SEO package. Talk to us today about how a responsive website design can boost your SEO.
Responsive vs. Mobile
Before responsive designs there were mobile websites. A mobile site was actually a separate website created solely for viewing on mobile devices. However, these sites do not optimize as well because they do not contain all the important content a regular site does. Google and other search engines favor responsive website designs.
A responsive website is not a separate commodity. Instead, it is your full website, but it responds according to the size of the screen it is being viewed on. These smart designs retain optimum optimization while allowing a user to view the site easily on the go.
Did you know that approximately 60% of online traffic is via mobile devices? This means your site simply cannot ignore the need for a responsive design. If a client opens up your website on a their phone or tablet and find it hard to read and impossible to navigate, they will leave your site in lieu of a better design.
Responsive websites should provide all of the following benefits for your business:
Lower bounce rate: Because things can be easily viewed and read, you will retain readers for a longer period of time.
Higher click to call conversion: When a design is set up properly, your company's phone number and information will be easily clicked through on a mobile device. This leads to better conversion rates for your company.
Better optimization: Since you won't lose your quality content on a responsive design, your site will optimize better on mobile searches.
If your company is ready to dominate online and show up on the first page of Google results for countless keywords, talk to us today about a responsive design. We provide high quality responsive website design in Dallas / Fort Worth for all of our SEO clients.