DFW SEO offers social media advertising services in Fort Worth, TX. Whether it's Facebook, YouTube, Instagram, or something else, we can help you promote your business. A well-placed (and professionally crafted) ad helps break through the waves of content consumers wade through daily.
If you are a business owner in Dallas / Fort Worth looking for social media advertising services, we provide opportunities to cultivate tremendous growth for your business. These key moments of connection make the difference between mildly interested followers and exciting leads
Benefits of Social Media Marketing
Below are some of the ways these platforms can grow your brand online:
Brand Recognition: Professional social media advertising content adds exposure to your company name and services.
Citation Sources: As with online directories like Yelp and BBB, social media networks also serve as a citation source for your business
Traffic Building: Ads direct people where you want them to go. This makes it easy to funnel traffic back to your website!
Customer Engagement: One of the most successful tools in social media advertising is your content marketing material, especially visual content. Turn high-interest posts into powerful ads.
Promotional Channels: Social networks are a great place to run promotional campaigns with discounts, coupons, and giveaways.
Reputation Management: Facebook and Instagram are also wonderful places to gather reviews and collect valuable feedback from your customers. 5-star reviews make great ads!
A consistent presence on social networks can build authority for your local business. The more places your company and brand are represented online, the more trust (and business) you'll earn in your local community.
This is true not only of users but of Google as well. As you may or may not know, Google prioritizes local businesses that establish themselves online.
Being easily accessible helps customers reach you at their convenience. Research shows that convenience leads to higher satisfaction rates (as it relates to consumer interaction).
Social platforms continue to establish themselves as the preferred channel of communication. Businesses that recognize this trend consistently distinguish themselves from competitors in Google Search.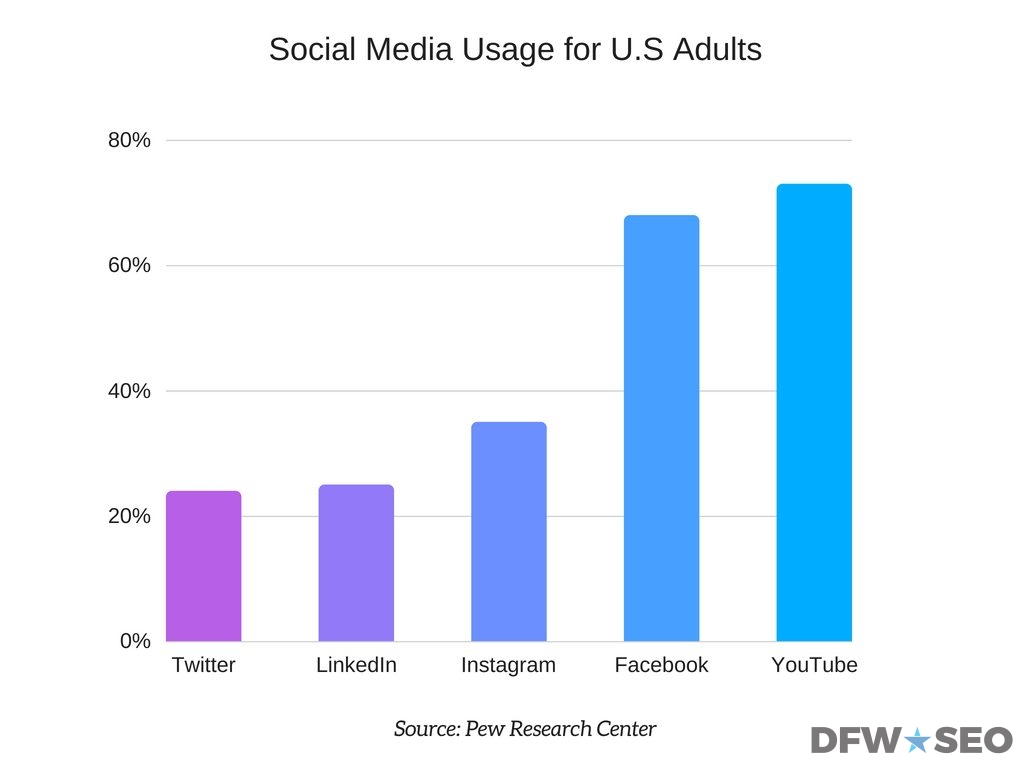 Convert Followers Into Customers
Once you've established your brand in social media, you can start pursuing leads you previously didn't have access to. After all, why stop at simply generating interest? You can try to generate leads through organic social media interactions, but that's rarely a practical option.
Facebook's algorithm update has essentially eliminated organic brand content from appearing on user timelines. Twitter posts are old news within seconds, and the engagement level for Twitter links is low.
Other platforms like Instagram focus less on branded links and more on images. LinkedIn is still an option, but its niche of B2B marketing somewhat limits its reach as well.
Thankfully, social media advertising still offers enormous opportunities for businesses around the DFW area. These tech giants do a fantastic job of analyzing consumers and delivering cost-effective ways to pursue them. Some advantages of this method of promotion include:
Optimization: Ad copy, visuals, and optimizable calls-to-action
Targeting: Location, demographic, and industry-specific
Testing: Easily tracked and measurable results
Visibility: Enhanced brand recognition on social networks
Reallocating your resources from organic social media marketing to paid advertising can help increase leads generated. The internet marketing landscape is constantly evolving, and Dallas – Fort Worth businesses that stay ahead of the curve will continue to maximize their revenue stream.
Conversely, businesses that fail to adjust to modern trends will be left with obsolete practices and negative ROI. Make your online presence expansive and innovative with social media advertising services from DFW SEO.
Social Media Advertising Metrics
Implementing social media ads is pretty straightforward, especially with tools like Facebook Ads Manager. The complicated part can be tracking and analyzing the subsequent data. The good news is that all major social platforms offer a native analytics tool so users can track and measure advertising performance.
With Facebook Insights, YouTube Analytics, and other social media data dashboards, companies throughout Dallas – Fort Worth can analyze and improve their campaigns. Metrics to focus on include:
Click-Through Rate: The rate by which users click your ad after seeing it
Engagement: The number of users who engage with the ad
Impressions: The number of times your ad is displayed (whether seen or not)
Reach: The number of unique users who see your ad
Companies can make on-the-fly adjustments to their advertising campaigns based on performance measurements. If you notice a lack of engagement in your ad, try switching up the call-to-action or perhaps the visual content.
Research indicates that videos engage more social media users than text or image-based advertisements. Managing social networking ads on your own can be an overwhelming task. The Dallas – Fort Worth SEO experts are happy to assist you in every way possible.
Top Social Platforms For Advertising
We know that Facebook is the most active social network and that Instagram and YouTube have a sustainable following. We also know that Instagram is one of the fastest-growing social platforms on the web.
Facebook Ads
Instagram Ads
YouTube Ads
On which of these platforms should companies advertise? The answer depends on your specific circumstance. DFW SEO will review each option with you and help you make the most informed decision possible.
Brand Awareness: The more well-known your business is, the better it is going to rank on local search results
Backlink Generation: By circulating content through social media, you are increasing the likelihood of an authority site linking back to your content
Social Search Results: There are search engines besides Google; in fact, Facebook and YouTube have their own search functions, which ranking well, can be very beneficial
Supplemental Indexing: A social media profile is another web entity (one that should contain a link to your main website) in Google can index — the more spots you occupy on Google search results, the better chance someone has of finding your business, in some capacity
Investing in Social Media Ads
A variety of companies offer social media advertising and make promises they can't keep. Why spend thousands yearly on another service that makes you compete with dozens of other companies for the same leads?
At DFW SEO, we create defined goals for your campaigns so that you can hold us accountable for our performance. We work hard to secure long-term growth for your business because that's a win-win outcome for our company too!
Our advertising campaigns provide a dependable source of real, qualified leads, but we also know that Internet marketing works best when every activity works seamlessly together.
That's why our services start with a local organic search optimization foundation, then expand to social media advertising, PPC, and web design.
Sign Up With DFW SEO