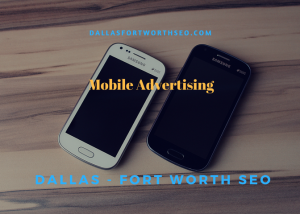 Mobile internet usage accounts for 71% of all digital minutes. For local companies in Dallas – Fort Worth, TX, mobile advertising should be a given. If for some reason you are not invested in any type of mobile advertising, you are ignoring the largest percentage of your consumer base. Advertising is distinguishable from marketing in that it relates primarily to paid techniques, most notably PPC. Advantages to mobile advertising include:
Conversion Simplicity: With click call functionality, advertisers can link their office line to mobile advertisements
Market Reach: The aforementioned 71% of digital minutes should be a gold mine for marketers
Shareability: Mobile content can go viral instantaneously, as users can share on social media, and text messaging
Tracking: Mobile data can be quickly and easily tracked to determine the effectiveness of the campaign, and any necessary steps needed to improve it
Mobile ads are unique from the more traditional desktop ads in that they offer a more direct marketing pitch to the user. Furthermore, the ads are displayed at the convenience of the user, right at their fingertips. The process of converting website visitors into paying customers in much simpler in mobile form. As marketers, we have greater access to your target audience, which places the onus on us to effectively reach them. Call 800.231.4871 for mobile advertising services.
Best Practice For Mobile Ads
As a business owner in the Dallas – Fort Worth Metroplex, you might be used to more traditional advertising, both in terms of format and technique. Whether it was newspaper ads 20 years ago, or desktop banner ads 10 years ago, the evolution of advertising has continued its natural progression. With the migration to mobile devices, you will once again have to re-learn the ideal process. With this in mind, DFW companies must be cognizant of the best advertising practices for mobile ads:
Accessiblity: Buttons and/or links displayed on mobile ads should be large, and easy to click
Click Call Functionality: Mobile ads should have a call to action — ideally; a clickable phone number
Legibility: It is important that the text on mobile ads is easily readable
Simplicity: Don't try to fit excessive text, or images, into one mobile ad, as the screen size only holds so much occupied space
Visual Appeal: Don't include sound with mobile ads, as users are generally listening to podcasts or music, but visual engagement will catch their eye
With the attention spans of mobile users so short, there exists about a 2 second window to capture their attention. Consequently, click-to-call functionality is a major asset to the mobile ad designer. Securing a verbal connection with the prospective customer is the hardest part of the process. Once that point is reached, the likelihood of converting them into a customer dramatically increases. DFW SEO is eager to help you get started with reaching more mobile customers today.
How Advertising Impacts Mobile SERPs
Like with desktop, mobile search results display PPC ads on the very top, above the traditional organic results. The difference in mobile SERPs, is that the screen and subsequent viewport, is much smaller. To see organic results, users must scroll down on their mobile device, a task they're not too fond of with their short attention spans. That doesn't mean companies should ignore mobile SEO entirely, on the contrary. Instead, they should use both methods to create the ultimate marketing solution.
The team at Dallas – Fort Worth SEO creates mobile advertising campaigns to help local business thrive in their market online. We make our goals and objectives clear from the get-go; generate quality leads and encourage conversions. In our years working with small businesses throughout the Metroplex we've come to learn that those goals align with most companies. Furthermore, we consistently monitor ad performance and make real-time adjustments on-the-fly when necessary. Call 800.231.4871 for mobile advertising services.