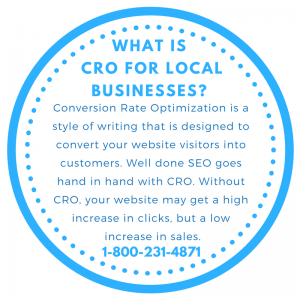 Dallas / Fort Worth SEO aims to improve every aspect of your company's online presence. One of the most important of those components, is conversion rate optimization (CRO). To measure CRO, one must first define a conversion. A conversion is a digital action taken by a website visitor, and one which your company pre-determines as a desirable outcome. Examples of conversions include:
Clicked Phone Number Link
Contact Form Submission
Email Subscription
Product Purchase (For E-Commerce Sites)
Once you define your conversion, you can calculate your conversion rate. A conversion rate is the percentage of website visitors that complete the defined call to action. If 100 users visited your website today, and 3 of them clicked on the phone number link to your office, your CRO would be 3%. A good conversion rate varies depending on company goals, and allocation of resources. To discuss CRO services from Dallas / Fort Worth SEO, give us a call at 800.231.4871.
How CRO Enhances SEO
CRO works collaboratively with SEO to enhance user experience. The objective of CRO is to encourage user action. The objective of SEO is to attract relevant users and keep them on your website. There is a direct correlation between relevant users on your website, and those that complete a desired call to action. CRO improves search engine optimization in the following ways:
Bounce Rate: CRO is designed to decrease bounce rates which improves SEO
Click Through (CTR): The first step in both the CRO and SEO process is getting people to click your website
User Experience: Again, CRO is designed to create a better user experience which is a primary ranking factor
Search optimization returns the favor by improving conversion rates. Generating relevant traffic and providing them with an optimal user experience increases the likelihood of a conversion. As you can see, each concept feeds off one another, and together can drastically improve website performance. If you are a business owner in the DFW Metroplex, our services can enhance your digital marketing campaign in 2018.
Conversion Rate Optimization Services
If you're a Fort Worth, TX business owner looking for conversion rate optimization services, you have come to the right place. DFW SEO is the #1 CRO service in Dallas, TX, Fort Worth, TX, and the surrounding DFW Metroplex. We employ a team of elite web designers, as well as a group of highly skilledcontent writers. As a result, each of our clients website's prosper within their industry and local community.
Tired of being locked into long-term agreements before seeing results? DFW SEO eliminates long-term contracts, and offers month-to-month service agreements, so that business owners can constantly evaluate our performance, and hold us accountable for results. Our choice to offer month-to-month agreements is based on our self confidence. We know our marketing services are elite. Call 800.231.4871 for conversion rate optimization services in Dallas / Fort Worth, TX.