Our Dallas / Fort Worth organic SEO services will help your company rise to the top of search engines. And when your business is ranking in the top 10 of Google results for important local keywords, your business will garner new leads. Our goal is to help your site gain new organic clicks that lead to your phone ringing. Talk to us about the ongoing, quality organic SEO services we provide for our clients. When you invest in organic internet marketing with Dallas Fort Worth SEO, you will see results that are long lasting and worth every penny. Because we invest hard work into your site every single month, you can rest assured that your results will be long term.
Why is organic internet marketing important?
Did you know that 91% of adult internet users employ the use of search engines? And when they do search for a service, they likely will never leave the first page of results. In fact, 75% of search users never scroll past the first page of results. This means that if your company is going to be found online, you need to optimize your site and reach that first page of results.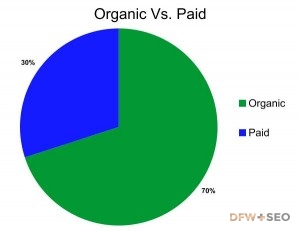 When you search for a service using Google, the organic results are the "free listings." At the top of the page and to the side are results with the word "Ad" next to them. Those are pay per click ads and are paid for results. But the listings that take up the rest of the page are organic results. Organic result listings are the coveted location because 70% of search engine users click on the organic listings not the pay per click ads. So your company has to dominate the local scene if you want potential clients to find you. Your site needs to optimize organically and reach the first page of Google results. The higher your ranking the better. We have an entire team of SEO experts dedicated to providing businesses in Dallas / Fort Worth with organic SEO services that are unbeatable in quality and affordability.
What services do you provide?
Our company provides a wide array of SEO services. For a complete list, visit our Services Page which also outlines our monthly, ongoing work. In relation to organic SEO we provide the following important services:
We work tirelessly to help our clients reach the first page of results for countless important keyword combinations. Our passion is working with small, local businesses who need a helping hand to reach the top. Feel free to call us anytime with questions and for a free consultation for your business. We are the number one company for organic SEO services in Dallas / Fort worth. Organic internet marketing is the key to running a successful business in our modern word.