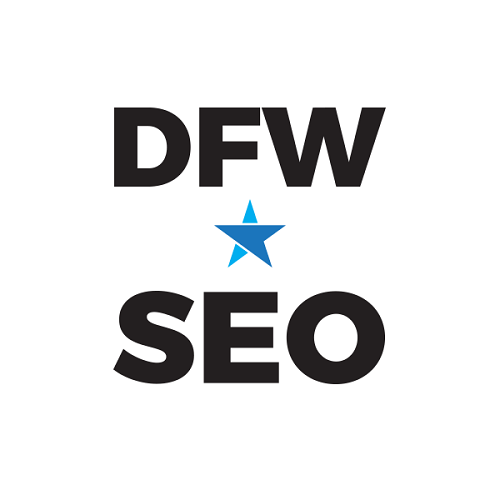 Dallas Fort Worth SEO offers Local SEO services in Fort Worth, TX. Our plans consist of Google My Business optimization, citations, reputation management, and city pages (local landing pages).
In addition, each of our DFW clients receives DataPins Local SEO software to boost Google Maps rankings, increase reviews, and display on-site social proof.
Google My Business Optimization
Our DFW SEO team optimizes your Google Business Profile (formerly known as Google My Business) for optimal results. We help rank your profile in the Local Map 3-Pack and Google Maps rankings. Furthermore, we help enhance your listing with photos, content, and more.
Our proprietary software tool helps generate more reviews for your GMB listing through text and email requests. In addition, we attach your website URL to your business profile to transfer the site's authority for optimal GMB rankings.
Optimizing your GMB listing ensures you can attract local customers and convert them as well
Citations
Each new client receives a citation builder campaign, which distributes your business information to all the major directories. As a result, Google grows to trust your business information based on its accuracy and consistency. Furthermore, customers can find you on a variety of platforms.
Directory listings also transfer domain authority to your website through nofollow links. Most directories allow us to add your website URL to the listing, which counts as a backlink to your primary website. While these links are not the same as editorial links, they serve as a hint for Google.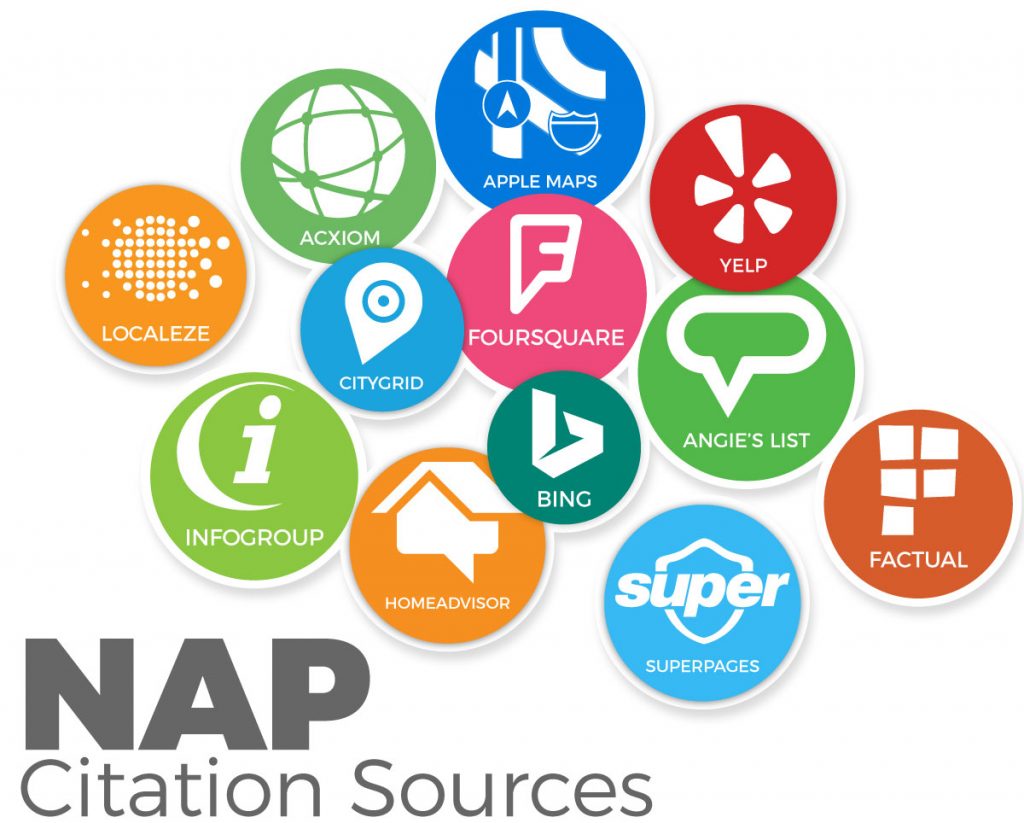 Our team distributes business citations so your company info appears on all major directories
Reputation Management
Consumers will evaluate your reputation before making a purchase decision. Even if you rank #1 for all primary keywords, most users still check your reviews on Google, Yelp, and Facebook. As a result, we help manage your reputation, monitor reviews, and respond to feedback.
Our included software tool does most of the heavy lifting for reputation management. Still, there are specific tasks you must complete manually. For example, in addition to automating review requests, you should still ask your customers in person, as well.
Customers check reviews before investing in services, so getting feedback on GMB is critical
City Pages
Local landing pages, AKA city pages, are an important part of Local SEO and one that our content development team takes very seriously. Many agencies create spam duplicates for city pages, but we focus on quality and uniqueness. As a result, our city pages outperform competitors.
DFW SEO clients have an advantage for local landing pages because of our included software. Each time one of your technicians completes a job and uploads a photo through the app, the pin will appear on the corresponding city pages. As a result, unique content stays fresh.
DataPins
You are probably wondering about the software we've referenced for our Local SEO services. The software is called DataPins, and it is included in all our SEO plans. DataPins allows you to auto-publish fresh content to your website based on the jobs you perform. It also boosts reputation.
For example, if you complete an HVAC repair job in McKinney, TX, and upload a few photos of your work with a descriptive caption, that content auto-publishes to your website's McKinney, TX city page. The pin also shows up on your HVAC repair service page.

How To Get Local Rankings in Fort Worth
Our local optimization efforts focus on ranking your company in two primary places, Google Maps and the Google Map 3-Pack. In addition, we help you rank on traditional organic results for local queries like hvac repair dallas. Ranking in these three places drives lots of good traffic.
Google Maps
Google Maps is a separate search engine that lists businesses with Google Business Profiles (AKA Google My Business or GMB listings). When users search directly on Google Maps, they are either looking for a company or directions to a specific address.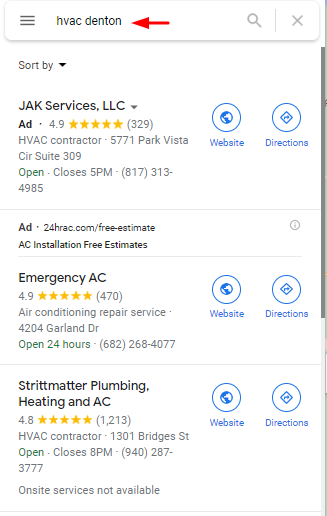 Google Maps has its own search engine that uses a separate algorithm from Google's main SERP results
Google Map 3-Pack
The Google Map 3-Pack is an extension of the Google Maps search engine that appears directly on Google's main search results page. When users search for a local query like furnace repair near me, the Local Map 3-Pack appears above traditional results. The Map-Pack pulls the top 3 Google Maps results based on relevance, prominence, and proximity.
The Map-Pack pulls results from GMB listings based on relevance, proximity, and prominence
Local Organic Results
The traditional ten blue links that most people think about for Google are called organic results. These results still appear for local queries, but they are below the Map-Pack. Ranking for local terms on organic results is still important because some users skip over the Google Maps results. Furthermore, ranking on organic helps you rank on Google Maps.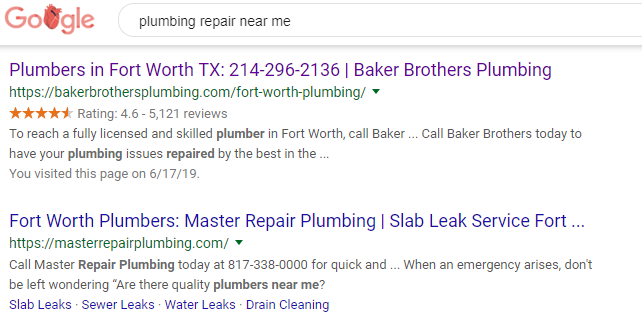 Sign Up With Dallas Fort Worth SEO
Dallas Fort Worth SEO offers month-to-month agreements so clients can cancel after any month. As a result, you invest in Local SEO services without much risk. Furthermore, each plan includes DataPins, which boosts your Local SEO rankings on Google Maps and the Map 3-Pack.