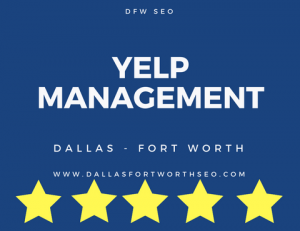 Yelp can be a mixed bag for business owners in Dallas – Fort Worth, TX. One one hand, it's one of the first places consumers go when gathering information about a service or company. On the other, it is the first place dissatisfied customers go to unleash their anger on the perpetrating entity. 97% of consumers looked online for for local businesses in 2017, a statistic so profound that it is impossible to ignore. The challenge is to maximize the benefits of Yelp while managing the downside. Let's start with the advantages:
Authority: The presence of reviews, particularly positive ones, increases local authority
Credibility: A well optimized Yelp listing gives your business instant credibility
Optimization: Every reputable citation listing contributes to local SEO
Visibility: Yelp is one of the first places consumers look when probing a company
The first step to acquiring the aforementioned benefits is to claim your Yelp business page. Once claimed, companies have the option to upload photos, publish website links and social media profiles, and add the ever-important NAP information (name, address, and phone number). Having control of your business page also allows you to respond to reviews, both positive and negative, which we will detail later. Call 800.231.4871 for Yelp management services in Dallas – Fort Worth, TX.
Responding To Yelp Reviews
Although the citation aspect of Yelp is important for NAP consistency and local SEO, the review aspect will have the most direct influence on your company's reputation. How you respond to reviews is as important, if not more important, than generating them in the first place. You should respond to both positive and negative feedback. Positive reviews are easy, as you simply thank the customer for their valued feedback. Negative reviews are a bit more difficult, and should adhere to the following protocol:
Be Courteous: Make the customer feel valued
Be Helpful: Identify the customer's primary need and address it
Be Professional: Use appropriate language
Be Solution-Oriented: Work towards quick and decisive solutions
It's best practice to keep review responses short and concise. If possible, attempt to continue the conversation in a more private setting (i.e. phone call, direct message, etc.). Remember, responses will be public so you are not only addressing the dissatisfied customer but also everyone who happens to come across your business page. If you treat the review response as a PR opportunity, rather than damage control, you can transform a seemingly negative situation into a company asset. DFW SEO can help you get started with review management today.
Optimizing Your Business Page
Because of its contribution to local SEO, the optimization of your Yelp business page is critical. NAP information is a no-brainer, and ensuring its accuracy and consistency should be second nature to business owners. To really separate your page from others, you need high quality photos, especially of your company and employees in action. Consider hiring a professional photographer to take pictures of your service jobs or business operations. Don't forget to add links to your website and social media profiles.
If you are a business owner in the Dallas – Fort Worth Metroplex, and are looking for Yelp business page optimization, you have come to the right place. Not only will we claim and optimize your business page on your behalf, but we will do the same for your Google My Business page as well. Moz's 2017 Local Search Ranking Factors lists citation signals as one of Google's considerations. Make sure your company is optimized for local search. Call 800.231.4871 for Yelp management services.