As a small business owner in Dallas or Fort Worth, TX, you may have heard the phrase SEO writing uttered in reference to digital marketing. It's safe to assume that most business owners in 2018-2019 have heard of "SEO" or search engine optimization, but how many of them understand it in the context of writing? Google has often promoted their ideals as content-driven, and while content can infer images, videos, and other forms of media, content will always remain synonymous with on page text. Although we've come a long way as an industry in regards to content development and marketing, there are still ways to write SEO-friendly content without resorting to old-school tactics like keyword stuffing.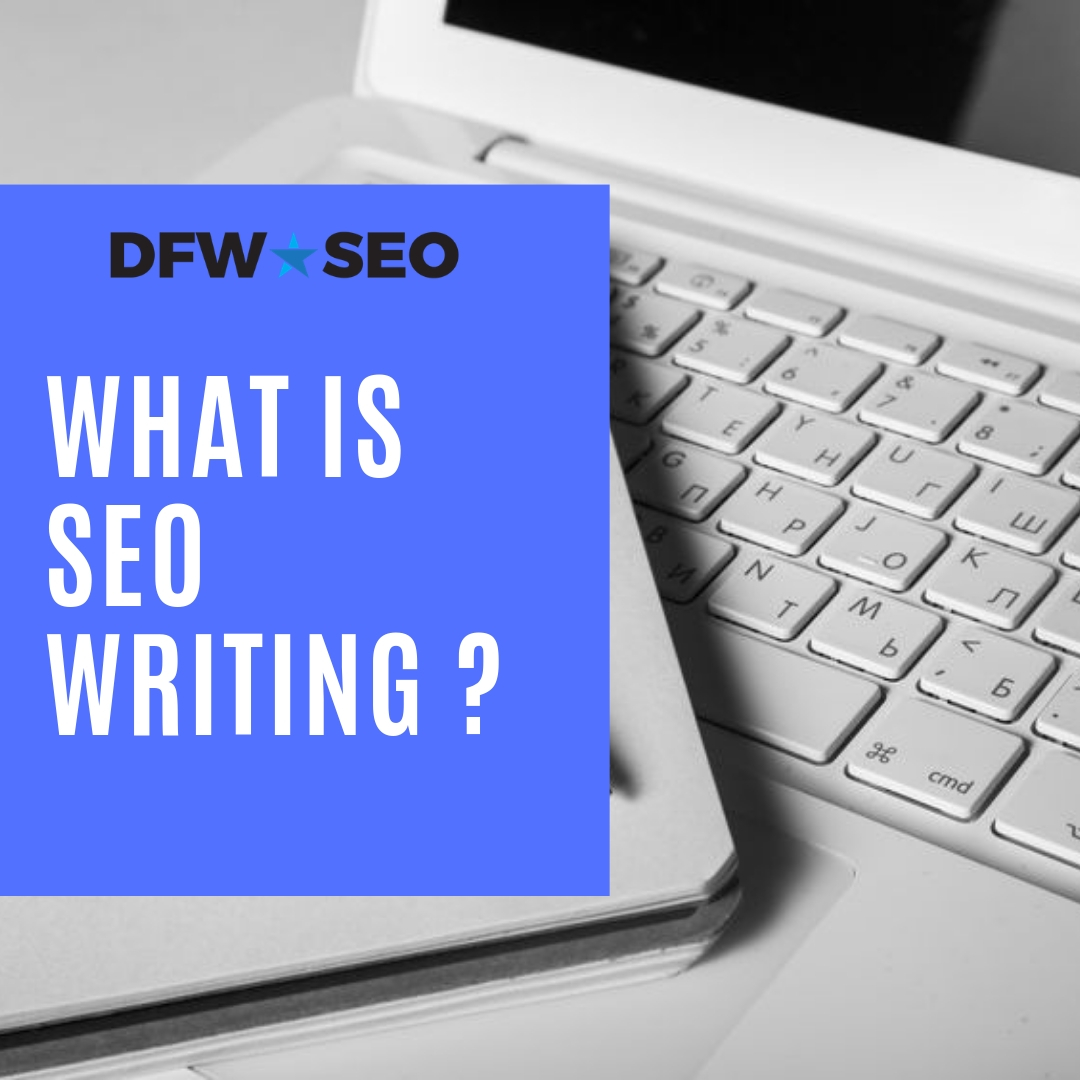 Like with every component of SEO, evolution has taken place, and will continue to, over time. SEO writing in 2008 is far different than it is today. Truth be told, if someone were to follow and SEO writing manual from a decade prior, they would likely be slapped with a manual penalty from Google. At the very least, they would fail to rank for any of the keywords they aimed to secure, and would make their entire website seem unprofessional, antiquated, and worst of all; anti-user. Since Google's affiliation is to their users first and foremost, user-friendliness is priority number one, and that remains true when writing SEO-friendly content in 2019, and beyond.
SEO Writing Principles
The principles of SEO writing have evolved over the years, but some elements have remained constant. For one, you want to get the keyword listed within the text. It should match your SEO title (title tag) and should also be listed in your meta description. Another aspect of SEO writing that has continued is image alt text. You should write the keyword as an alt tag on relevant images. For this reason, you want to use images that reference the topic of the page you are writing. This is true with both regular web pages as well as blog posts. Another important principle is formatting, sometimes referred to as structuring. You want your content to be easily readable and easily crawlable by Google search crawlers. The usage of header tags (which should also contain a keyword) and bullet points, helps make formatting superior for everyone involved. Review the unchanged principles of SEO writing:
Formatting / Structuring
Keyword Placement
Uniformity (Matches other SEO elements)
How Has SEO Writing Changed in 2019
The fundamentals listed above have been part of SEO since its inception, but as the methodology has evolved to better suit the needs of users, the standard of writing has increased significantly. You still need formatting, keywords, and uniformity, but it's far more in depth than it used to be. Today, formatting is more commonly known is structured data, which can even incorporate with the technical side of SEO and be integrated with schema.or microdata. Keywords are still necessary, but over-using them is now a strongly discouraged. Instead of inserting the keyword over and over again within content, it should be used sparingly and supplemented with synonyms. The theory behind usage of synonyms is known as LSI or lemantic search indexing, also sometimes referred to simply as; semantic search. Another factor of greater importance is content quality. Google's ultimate goal is to rank the material that is the best written, meaning the most engaging, relevant and unique. In summary, SEO writing has changed in 2019 in the following areas:
LSI: Keywords should now be surrounded by synonyms, to satisfy a concept known as semantic search indexing
Quality: The standard of writing is much higher, in terms of grammar, engagement, and uniqueness
Relevance: Google can now distinguish content that relates to the page topic from content filled with out-of-context keywords
Writing for SEO in 2019
With a better understanding of how it has evolved, writing for SEO should be easier to understand. Still, many are looking for SEO writing tips so that they can outrank competitors on search engine results pages (SERPs). Before getting into specifics, aligning your core strategy with Google's ideology should be priority #1. Writing content for the user rather than the search engine should be the central theme of your process. As the algorithm continues to evolve (approximately 500 updates per year), following the outlined protocol is an ideal long-term strategy. Long form content is now being rewarded more than ever before, and shorter articles are You should abide by the following SEO tips for 2019:
Deep Dive Content: Write longer posts and pages that delve deeply into the subject matter
Focus On The User: Let the needs of the user drive the direction of your writing
Organize & Structure: Make your writing easy to consume through proper organization
Semantic Search Optimization: Use LSI keywords for a more robust piece of content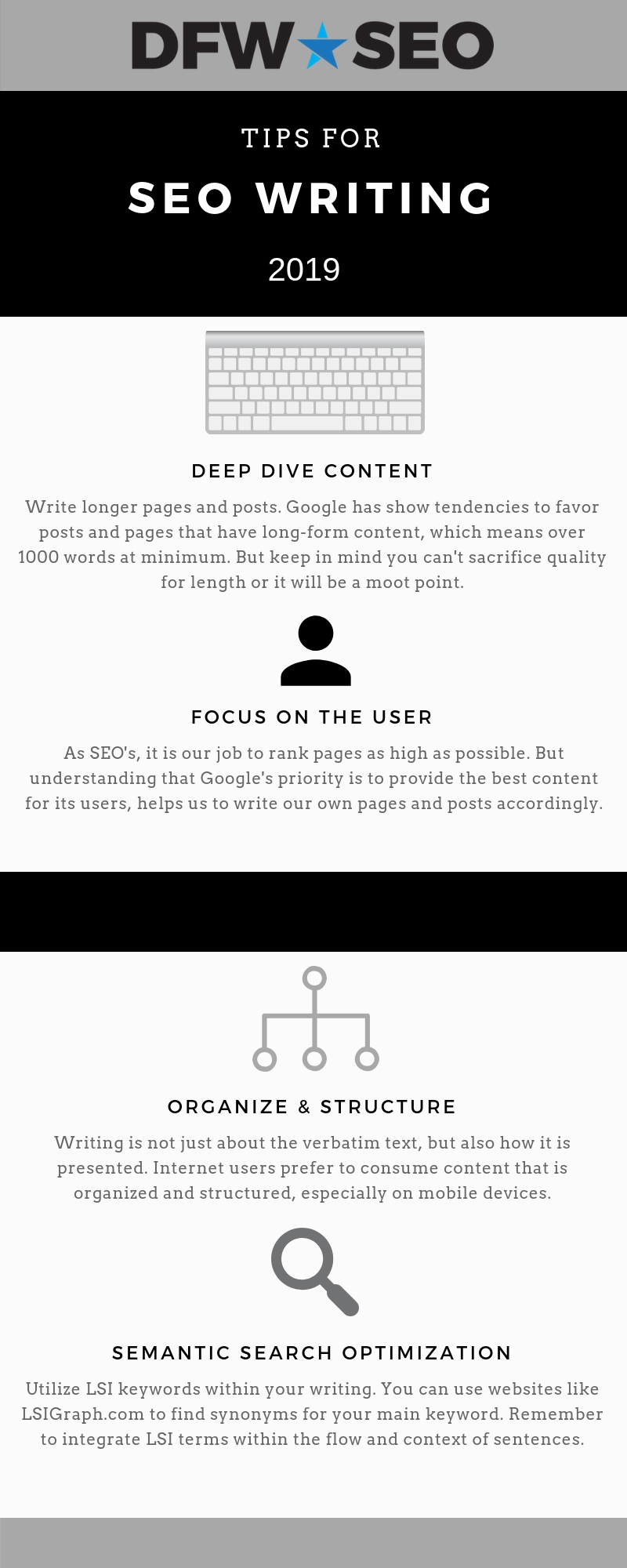 SEO Writing Examples
Below you can see the difference between an SEO-friendly paragraph, and one that is awful:
SEO-Friendly Writing
If your home has been exposed to water damage, it is critical to contact a water restoration service as soon as possible. The damages from flooding can be long-lasting and expensive, which is why addressing the problem immediately is the most ideal course of action. Neglecting flood damage can produce hazardous results, such as mold growth and a deterioration of air quality. These symptoms can be a serious threat to residents of the household.
Awful Writing
Water damage services near me is the best way to restore flood damage in your home. We are the #1 water damage service in the area and are able to repair water damage when you call us right now. We serve your location as the top company in (city). If you need water restoration services today don't hesitate to give us call at your earliest convenience. We provide cheap water damage services.
SEO Writing Services
Whether you are looking for blog posts, articles, or web content of any kind, Dallas Fort Worth SEO is here to do the job. In fact, it is included in our SEO marketing services in Dallas. We strongly believe that SEO writing should be part of a larger digital marketing strategy that involves all aspects of SEO, including those beyond the written word. With an in-house staff of experts in the fields of web design, Google optimization, PPC management, and local maps, we have the full toolbox ready for small businesses throughout the Metroplex. Call 800.231.4871 to learn more.