SEO marketing is the process of promoting a brand, company, or service through search engine optimization. It is considered one of the most popular forms of marketing in the United States, including Dallas, TX. For those unfamiliar with SEO, it refers to the refinement of digital content for the purposes of improving visibility on Google, and to a far lesser degree; Bing and Yahoo.
Search engine optimization has many facets, but it's most commonly associated with on page ranking factors like title tags, header tags, meta descriptions, and keyword density. Despite the strong association with on page content, those in the industry understand that off page factors have just as much influence on a website's ability to rank well, if not more. Tasks commonly referred to as off site SEO, include link building, social media posts, business citations, and local mapping. Platforms like Google My Business, Google Maps, and Facebook Business are strong indicators of trust to search engines, and therefore directly correlate with your search engine visibility. Having established what SEO is, we can now more effectively describe how it's used for marketing purposes, specifically for Dallas small businesses.
SERP Configuration
To understand SEO marketing, you must first understand the acronym SERP and its intended meaning. SERP stands for search engine results page and is the webpage produced after clicking search on Google. SERPs are presented on mobile, tablet, and desktop devices, but often vary in presentation on each. A page one SERP for a high volume keyword is the most coveted piece of online real estate. It's a business owners best chance to market through SEO. Take a look at a page on SERP, as presented on desktop:
As you can see there's 3 different SERP features on which to market on this particular page. Depending on the search query, additional features will become available. On this page above, the 3 features are PPC Ads, Organic Results, and the Knowledge Graph. Because the search query above was the name of our own company, it is considered a branded search. Searches like these generally produce the aforementioned Knowledge Graph, which is an extension of your company's Google My Business profile. It's a great way to generate visibility on SERPs.
Google Ads (PPC)
The results labeled ad above are known as PPC ads. They are part of Google Ads, formerly known as Google AdWords, a bidding service that allows companies to pay there way to the top. The highest bidder doesn't necessarily get the top spot however, as Google has regulations in place to reward advertisements based on quality and relevance in addition to bid. This gives companies who design engaging ads that best meet the user's need a fair chance against businesses whose only advantage is capital. Although PPC ads tend to have lower click-through-rates than page one organic results, they allow companies to guarantee a spot on page one, which is critical.
Organic Results (SEO)
The results marked in numbers 1-6 are known as organic results. Google doesn't accept advertisements for these results, but rather presents them based on their algorithmic relevance to the particular search query. In layman's term, Google's artificial intelligence pulls the results they deem to be most relevant to the search, and will be most helpful to the user, hence the term organic. The click-through-rates for page one organic results are far higher than PPC ads. As users have become more informed and educated, they've developed the sense that organic results are the most legitimate, and give them the best chance of high quality and relevant information.
Knowledge Graph
The 3rd SERP feature present on the image above is the Knowledge Graph. The KG is a snippet of a company's Google My Business page, and serves as an important indicator of brand awareness. When a user performs a branded search, in most cases they are already aware of the company in some way. The KG can influence their perception of the company by either maintaining it, enhancing it, or diminishing it. The best way to ensure a favorable Knowledge Graph presentation is to have your Google My Business page optimized with NAP information, along with high quality photos.
Additional SERP Features
A SERP can vary based on a number of factors including location, device, and language. That's why not every SERP is identical, even if it is related to a similar subject matter. Google has improved its algorithm to match the intent of the user more effectively than ever before. The diversification of results has lead to more marketing opportunities on search engines. It's also created more competition. It's not accidental, that these two things have paralleled one another. Take a look at these SERPs with additional features:
As a business owner in the Dallas Fort Worth Metroplex, every position on a SERP serves as digital real estate. Just like the first organic result can generate excellent traffic to your website, so too can a featured snippet, which serves as a de facto #1 ranking. Another concept to keep in mind is SERP presentation. Google has made is possible for webmasters to mark up results so they become more appealing to the user than others. As a local business, you should be doing everything possible to make sure your result is one that stands out.
Local 3 Pack
As we noted, different types of searches present different types of features. For example, a generalized local search will produce an additional feature known as the local 3 pack. This is a group of the top 3 Google Maps listings along with a snippet of their aggregate review rating. For local searchers, this 3 pack represents one of the most convenient ways to find a relevant business. For this reason, claiming and optimizing your business on Google My Business and verifying your location on Google Maps is imperative. You should also be pursuing legitimate customer reviews to get placement on the coveted local 3 pack. Our Righteous Reviews widget can help you accomplish this.
Rich Snippet
If you've ever noticed that certain results have something extra, you've witnessed a rich snippet. For example, an aggregate review rating in the form of 5 stars is a rich snippet. These can be integrated on website pages through the use of schema.org, which is a microdata language that webmasters incorporate as a way to communicate with Google. If your website has no rich snippets, it's likely due to a lack of schema microdata within your site's coding. Hiring a professional web designer can ensure that the microdata is implemented, and that rich snippets start appearing on some of your search results.
Google Shopping Ads
Google Ads has an extension of their platform that produces shopping results. This feature exists primarily for businesses who sell products online via eCommerce. Like text-based PPC ads, shopping ads are awarded partially based on the company who places the highest bid, but also factors in the quality and relevance of a listing. If you sell products online, shopping ads should be part of your overall paid advertising strategy. Although Amazon is the far more popular eCommerce platform, people often research products based on Google shopping results. It is something that businesses in certain industries should consider moving forward.
Featured Snippet
For question-based queries, like those that start with who, what, where, when, how, an additional feature often becomes present. This feature is aptly known as a featured snippet. It is a box on the top of the SERP that answers the users question using a block of text pulled from a website. Google programmatically selects text from a website based on their own algorithm. There's no way to buy your way into a featured snippet placement. It can only be achieved by writing informative and educational content on your website that answers a common question. The best way to earn a featured snippet is to pose a question in your H1 or H2, and answer it with text or bullet points in the subsequent paragraph.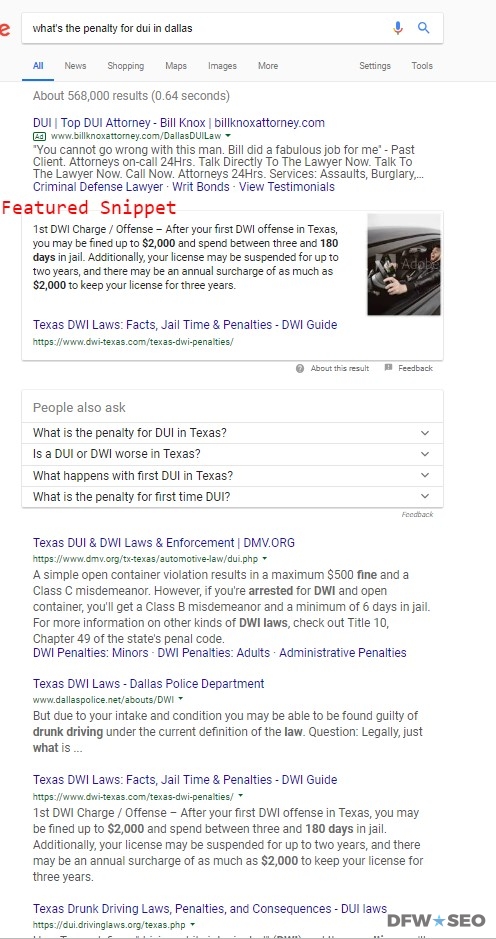 Q & A Box (People Also Ask)
Search queries that produce a featured snippet will also produce a People Also Ask box which lists related questions that are similar but not identical to the search query. The answers to these questions become visible when the user clicks the down arrow on their right hand side. Like with featured snippets, these answers are pulled programmatically from a website based on relevance and presented as a block of text. Not every question is answered by the same website. Google pulls what they deem to be the best answer to each question, which often results in a variety of websites being represented within a Q & A box. The same process used to optimize for featured snippets should be used to earn Q & A answers.
Need Help With SEO Marketing in Dallas?
Dallas Fort Worth SEO provides marketing services to businesses in Dallas, TX and surrounding areas. Our pricing is based on your company's revenue to assure affordability for everyone interested in improving their online presence. All the SERP features mentioned throughout this blog post can be achieved through DFW SEO's services. We are a team of 15-20 experts with diverse skill sets. From organic ranking, paid advertising, and local mapping, we put our clients in the best position to succeed while continuing to evolve alongside Google's latest algorithm updates. Learn more about our services by calling 800.231.4871.