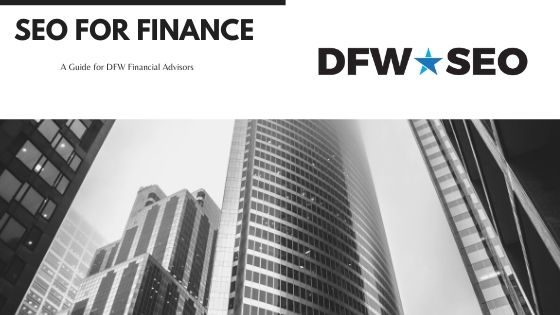 What drives more than half of all internet traffic? Search engines. More than half of the people who make it to your website made it there via a search engine query. One study found that 68% of all customers' experience with a company begins with an online search.
To put it mildly, SEO is essential for all industries. You can't expect to compete in the digital age from mom-and-pop corner markets to major financial institutions if you don't have an excellent digital marketing strategy in place.
SEO for finance is crucial because people expect to be able to find you through an online search. So it's not enough to have a sleek website (although having one certainly helps); you need to make sure that it's showing up when people perform relevant searches.
In the following post, Dallas Fort Worth SEO will be talking about SEO for finance and sharing with you tips on how you can boost your rankings and get seen by more people in need of financial services.
Identifying Keywords
The first step of any SEO strategy is to identify your industry's top keywords. These are the keywords that people use the most to search for the kinds of services you offer. They can also be keywords people use to find your business, specifically if they already know it exists.
That last part is essential because not everyone is at the same stage of the sales funnel. For example, some people are still researching financial services and institutions; some already know the specific services they need, while others already know which company fits their needs.
Keywords reflect these different stages that people use to get information from search engines. Here is a simple breakdown of how keywords correlate with people's buying intent:
Short Head Keywords: These are search terms that people use when doing broad research on a topic. Typically, people use them while doing research and may need financial services shortly. Short head keywords are best used for top-level content and in headers and page titles.
Longtail Keywords: Longtail keywords are more specific and typically used by people who have a better idea of the kinds of services they need. These people are usually further along the sales funnel and therefore need more specific information. Longtail keywords belong in the meat of your content, like your blogs, landing pages, and of course, service pages of your website.
The trick to all this is identifying which head, and longtail keywords would be most beneficial for your business. Luckily there are several helpful keyword research tools online. When developing a keyword list for your company's website, email marketing campaigns, and social media posts, these are significant assets.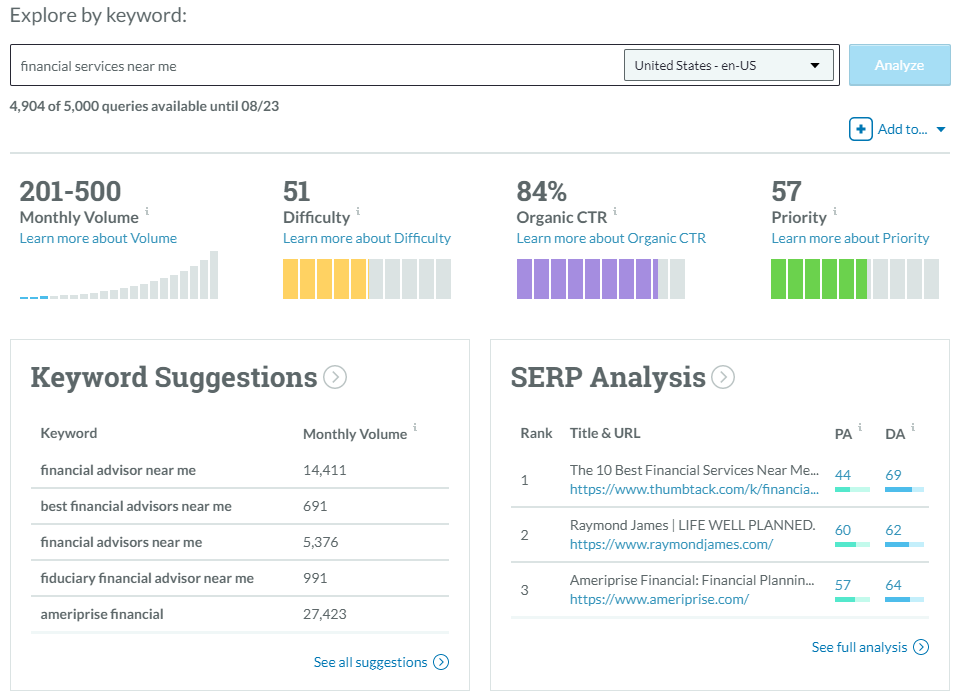 Producing Great Content
In 2021 it's no longer enough to have content to boost your SEO rankings. Especially for finance institutions, you have to have quality content. What constitutes quality content, though? For the financial industry, it means content written by authoritative experts in the field. Your blog posts, white papers, press releases, and even social media posts need to be written by someone who can establish themselves as an expert in the subject. Google even offers author schema markup so that web admins can tell search engines who wrote the article.
Google determines whether users have their needs met by the search results. For example, if a person clicks through to a website through their online search, Google will analyze the subsequent behavior to determine that the web page met the user's needs.
For this to happen, though, users must perceive your content as professional quality. In the case of finance companies and institutions, it means authoritative writing and multimedia content.
You must provide your visitors with something of value, not only to help increase organic traffic to your site; but to inspire trust in your brand and, ideally, move people along the sales funnel.
Writing Long-Form Blog Posts
If you've read this far then, you know that quality content is essential. But how do you come up with quality content? Blogging is one of the simplest and most effective ways to offer quality content to your visitors. As a professional in the finance industry, you can leverage your knowledge to create high-quality blog content for your business. Here are some more tips for creating quality finance blog content:
Choose Topics Based on Keywords: You have already done your keyword research, so put it to even more use. Your target keywords should be the basis for most of your blog posts because you already know these terms that people are using the most to look for financial services.
Choose Topics Based on Search Intent: You will want to target as many people as possible, including people at multiple stages of the sales funnel. Additionally, create blog content for people who use research intent keywords and purchasing intent keywords. In other words, the content will attract the attention of people who aren't sure if/what financial service they need and people who may already know that they need financial assistance or the specific service they need.
Current Events: It's always a good idea to stay up on current events – especially in the finance industry. Creating blog content that explains or provides insight on recent trends or news in the finance industry is a great way to generate organic traffic and attract people much further along the sales funnel.
Optimizing Title Tags and Meta Descriptions
Title tags and meta content are some of the most important ranking factors for search engines like Google. Among other SEO signal concepts, meta content and title tags are a couple of ways your content speaks to the Google algorithm and lets it know that your site has data that can be of use to the searcher.
Metadata tells the algorithm and the searcher what your content is about, and your title tags provide a brief description of what the searcher will learn about if they click through. For this reason, your meta content/descriptions and title tags should be:
Accurate: One thing that will immediately hurt your rankings is inaccurate or poorly written title tags. Your rankings will surely suffer if the tags don't indicate what the person will read on the page or reads confusingly.
Centered Around Keywords: You can probably tell why we put keyword identification at the top of our guide. It serves so many other aspects of SEO for finance. Your meta content and title tags should center around one of your target keywords to help bring in more traffic and indicate to the algorithm and the searcher that your content is relevant.
Brief: When your title tags and meta descriptions are too long, they truncate on search engines. As a result, people won't read a complete description of the page and be less likely to click through to it.
Unique: It can be challenging to come up with unique meta descriptions, meta titles, and title tags when your website has many pages. However, it's also essential to make them as memorable as possible. Reusing meta descriptions and title tags can hurt your ranking.
Building White-Hat Backlinks
Backlinks (links to your site on other websites) are also an important ranking factor. They are votes of trust in the authority and quality of your site, so in general, search engines like Google prioritize websites that have a lot of quality backlinks.
Backlinks can be hard to come by, however. The most effective white-hat strategies to build a strong backlink profile are through content and social media marketing. Content marketing can include blogging (which we've already discussed), YouTube videos, and social media posts.
Social media posts can be compelling for building backlinks because quality posts will encourage sharing and get your links out to more sources. Try to convert some of your blog content into helpful how-to social media posts, stories on Instagram, video content centered around finance and surveys.
Keep in mind that black-hat link building (methods that violate Google's guidelines) may result in a penalty and the de-indexing of your website. Common black-hat link-building tactics include buying links, excessive link exchanges, and comprehensive link schemes designed to deceive users.
Expert SEO Help From DFW SEO
It can be a lot to take in if you are a neophyte at SEO. Sometimes it's best to enlist the help of seasoned SEO experts. Here at Dallas Fort Worth SEO, we can craft a strategy that is tailor-made for your company. From keyword strategy to content marketing and everything in between, we will act as your SEO Sherpas. So achieve your goals by working with our SEO for finance team today.