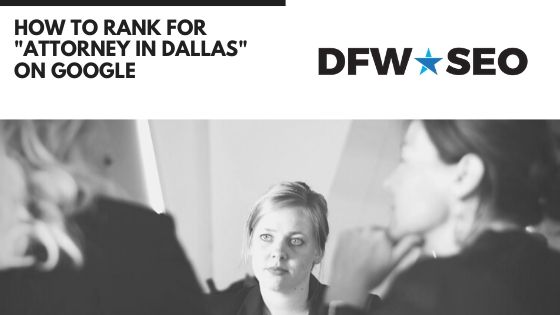 Being an attorney means that you have a lot of competition in your particular geographic area. If you are an attorney in Dallas, TX, for instance, there are likely quite a few different competitors that are all vying for the same client pool.
For this reason, it is important to be able to rank on Google for your local area. When you can do this, it allows you to get in front of your target audience for relevant keywords on a consistent basis, creating more leads that eventually lead to the conversions that keep a business going strong.
So, how can you rank for "attorney in Dallas" on Google and keep your firm going strong in your geographic area? Here are a few helpful tips.
Create a Google My Business Listing
One of the most essential resources out there for any kind of business is the Google My Business listing. Business listings are essential in all formats as they allow those leads to find out more about your business and see how it ranks when compared to others.
With Google My Business, it is essential to provide all the relevant information pertaining to your business. All too often, businesses claim their Google My Business listing and then fail to list all of their essential information.
This can not only frustrate potential customers that are trying to find out information about your business, but it also ranks poorly with Google. Google and other search engines will punish those listings that have incomplete information. Don't fall into that trap.
Once you have set up your Google My Business listing, there are a few things that you should add. Try adding a long, unique description with proper formatting. Definitely add your local phone number and choose all the relevant categories.
Photos are also a huge thing for Google My Business. It shoes your business in a more realistic light and makes it feel more personable than webpages with those stock photos that we have all seen before. If you want to rank for "attorney in Dallas", this is one of the most important places to start.
Acquire Customer Reviews
There might not be a more essential aspect to both your business and ranking for search engines than acquiring positive reviews. Reviews are the quickest way to verify the reliability of a business as it has been used by others out there who want to give their opinion.
Having a page with a ton of positive reviews will do wonders for your search engine ranking. Positive reviews are treated with the utmost importance as engines like Google want to provide the best and most trustworthy results possible.
It is also worth noting that having a couple of negative reviews is not the end of the world. As a matter of fact, they can be quite positive. Having negative reviews can give your business a sense of realism that 100% positive reviews can't.
Not only that, having negative reviews gives you a chance to respond. If you can respond in a timely and professional manner, it shows that you are willing to go above and beyond to create a positive experience for those who may not have had one to start.
Ranking for "attorney in Dallas" won't be possible without having as many positive reviews as you possibly can.
Optimize for On-Page SEO
SEO is one of the most effective marketing strategies that there is. With a great location-targeted SEO strategy, you can have effective marketing at a fraction of the cost that others spend on their marketing budgets to achieve the same results.
There is a large weighting when it comes to on-page content for local search listings. This is why it is so important that, wherever possible, you get the most out of your content. There are a few important things to cover like adding your city and region plus a relevant keyword within your page title, page H1, page URL, landing page content, and within your ALT image attributes.
If you can achieve these in an organic way, your local on-page SEO will stand out in a positive way, garnering the results that you are looking for when trying to bolster your local SEO rankings and ranking for "attorney in Dallas."
Produce High-Quality Content
One of the biggest factors for a strong SEO ranking is ensuring that you have relevant, quality content throughout your website. This is where having something like a blog can really come in handy for creating that kind of content.
The best strategy to take here is to look into what users are searching for within your given industry and then answer those with relevant and comprehensive content. This is to make your website the authority on the topic. When you do this, your website becomes appointment viewing and gives those on the fence about using your service the incentive to make that leap.
You don't need to create daily content to have a strong content presence in your local SEO. But the fact is that you need to create relevant, interesting content that hits all of the on-page SEO factors. This will help you to rank highly for your local keyword searches and give you the leg up on the competition.
Ranking for "attorney in Dallas" can be difficult given the competition in the field and the size of a city like Dallas. That means making certain that your SEO game is as strong as it possibly can be so that you can be near the top of the rankings in your relevant keywords.
Without a strong local SEO game, it will be difficult to rank near the top of relevant keywords in your area. This means that your marketing strategy will face an uphill battle and that you will have to dedicate more time and resources to reaching your target audience.
Take the extra steps to enhance your local SEO game and you will see substantial strides when developing leads and finding new clients. Ranking for local SEO is the best thing that you can do for your business.