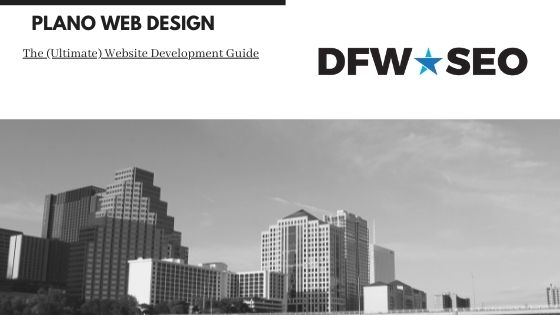 Plano web design is critical to your business's success in 2022. After all, your website should be your number one lead magnet and serve as a haven of reliable information for new and existing customers.
In addition, your website should help convert customers and contribute to your bottom line.
So as a small business owner in Plano, you have to ask yourself one question: is your website up to par? If the answer is no, don't feel too bad. There is always time to right the ship.
In the following post, Dallas Fort Worth SEO outlines essential elements of great Plano Texas web design. We will also discuss things to consider when building your website from the ground up.
Plano Website Development Options
Whether building your first company website or shifting your website to a new platform, you must know how to start or restart. Here are a few of the options available to you and some of their perks and drawbacks:
WordPress
WordPress is a viable option if you're new to web design because it has a wealth of helpful plugins that make the process of building a website a bit easier. Another bonus is that some of these plugins will help you grasp SEO or Search Engine Optimization basics.
Basic websites are even free on WordPress. The main issue with platforms like WordPress is that there is still a bit of a learning curve, and it could take you months to get your bearings and create an effective website for your business.
Website Builders
You can use other services that have more or less a "drag and drop" interface where there is essentially no learning curve. Some examples of website builders include Wix, Shopify, and BigCommerce. Not only are these we builders fool-proof, but they also tend to be very inexpensive.
The bad news is that they don't leave much room for optimization, which means your website may ultimately be ineffective for lead generation. Also, if you ever want to move your content to a new platform, you may not be able to do so as some of these services take ownership of content published on their platform – be sure to read the fine print.
Professional Website Design
If you choose to work with a professional web designer in Plano, TX, you will benefit from optimizing your website in any way you need to. You will also spend your time on essential aspects of your business that only you can see instead of designing your website.
Plus, a professionally designed website looks more well, professional. But, of course, the downside of hiring a design agency is the price. Even on the lower end of the spectrum, web design services can cost around $1,000. Just be aware that the price will depend on the designer's experience and your business's level of need.
Elements of Great Plano Website Design
The most important thing to remember about Plano website design is that it's not all about looks. These days, your website has to be a beacon in cyberspace that draws new customers to your business. So here are some of the most critical Plano web design elements to consider:

Clear Architecture
Did you know that the average web surfer will spend only 45 seconds on a site before clicking through to another one? Forty-five seconds isn't nearly long enough for any lead to take a favorable action like requesting a quote or booking an appointment.
One of the things contributing to this high turnover rate is poor website architecture. In other words, your website has to be easy to navigate. Consider a flat website architecture wherein every page is accessible in one or two clicks.
Important Information
A lot of internet searches occur with research intent. In other words, people are looking to find answers about a particular service or product. Your website has to provide the information that people are seeking. Consider displaying essential NAP (Name, Address, Phone Number) information on the homepage.
Also, make sure there are pages for all the services you offer. Think about the questions that your customers often ask you. Then, make that information available on your website to entice visitors to keep clicking or make a call.
Business Name in Domain Name
This one may not be possible for all business owners. However, if you can, it's a great idea to include your business name in your domain name. Having your actual business name as your domain name or at least as part of your domain name makes it much easier for your customers to find you and increases brand recognition.
If your company name is already taken, choose a close variation. For example, if your business name is "Bob's Upholstery," but bobsupholstery.com is already taken, try adding a city name.
On-Page Optimization
Plano SEO should be a significant point of emphasis whether you hire a design agency, freelancer, or design your site yourself. Focus on on-page optimizations like keyword usage, image usage, and content marketing. Also, if you can, publish a blog on your website to increase traffic. 
Make sure you use relevant keywords to rank higher in search engine results pages. In addition, make sure every website page links to another page to avoid dead-ends or orphan pages on your site. Finally, make sure all web pages load quickly and regularly test them for speed.
Security
These days, anti-virus software will let consumers know when a site is unsafe to use or share information. In cases like this, the consumer will exit your website as soon as possible. On your end, securing your website will protect you against hacking threats and information leakage.
That's why it's essential to ensure that your website is secure. Starting with an SSL certification is critical. You may also want to look into more advanced security options if you have a particularly large or busy website.
Web Design Plano Experts
If your Plano business requires an all-in-one solution for website development, choose Dallas Fort Worth SEO. Our agency addresses every aspect of website design, including those mentioned above. Our in-house design team crafts custom, branded websites for Plano-area companies.
Your site gets optimized with cutting-edge SEO techniques and encourages conversions through tactful calls-to-action and appealing visual elements. Our design firm also stresses the importance of personalization within your homepage to increase trust and credibility.