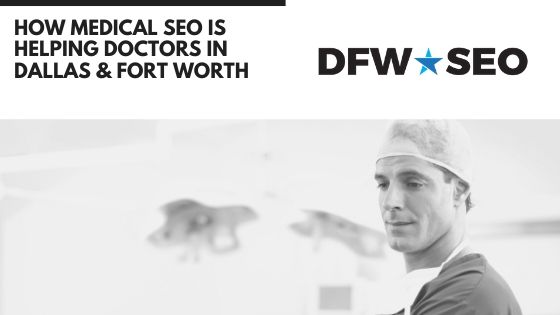 The beauty of the internet is that it can help businesses in any industry and market. The largest companies in the world and the smallest in your community can all generate the leads that they need to sustain their business and keep it growing. That's where medical SEO comes in.
Doctors and other healthcare professionals can generate leads to bring in new patients for their Forth Worth practice, keeping it healthy and thriving. And the fact of the matter is that every business needs that kind of help unless they are the biggest on the globe. Fort Worth SEO is your best chance.
There is one thing that you might be thinking: "just use SEO practices." And while that isn't very far off base, there is more to it than that.
What is Medical SEO?
Medical SEO is meant to increase your medical website's search engine rankings. This makes you more visible on search engines that generate billions of searches each day, allowing your physicians and treatment centers to reach a larger audience.
Being able to reach a larger audience means that you can grow the patient list for your practice. Bringing in new patients each year is something that any practice has to do to stay alive. Having the right medical SEO can make all the difference in the world.
Why Invest in Medical SEO?
Regardless of how you feel about technology, there is little denying the impact that it has had on nearly every facet of life. Marketing has felt a tremendous impact due to technology and only continues to develop.
SEO is at the heart of this technological movement. Being able to properly optimize your website for search engines gives any business a fighting chance of showing up on the top page of searches for relevant keywords in their location.
And with most people now having a mobile device, being able to rank organically is more important than ever. The times, they are a-changin'. Or so the song goes.
So, how can you make the most of medical SEO to help your practice generate more leads for patients? Here are a few helpful tips.
Your Website Has to Have it All
There are three aspects that any website needs to have these days: it has to be secure, it has to be fast, and it has to be mobile-friendly. If your website doesn't meet those criteria, there is a good chance that it will be hindering you more than anything.
Having a fast website is maybe the most important thing. Users have little to no patience for slow-loading websites these days. If your web page does not load within three seconds, it is likely that the user will have moved on to another website. Get your website moving at lightning speeds and you'll have met one of the most important criteria.
Security, especially in the medical profession, is of the utmost importance as well. If a user feels like their personal information could be compromised while using your website, they will click away faster than you can blink.
And being mobile-friendly is becoming more important each day. That's because more and more people are switching to mobile platforms to do their web surfing. If your website isn't optimized for mobile, you are missing out on a massive portion of the audience that will likely not even give you the time of day.
Quality Content
It does not matter what industry you are in, having quality content is no longer an option, it is a necessity. If you don't have quality content on your website, you are missing an important aspect that separates the best of the bunch.
For the medical profession, having a blog is a great idea. You can have informative content that answers all the relevant questions that your audience may have. Because when you can provide that informative content, your website becomes an authority and appointment clicking.
Think about it: a potential patient is on the fence about using your practice. They've seen everything that your website says about your practice but they still aren't certain. Then they come to your blog.
They read an informative post after an informative post, showcasing your authority on all matters medical. This makes them feel confident that you can care for their needs, instilling a level of trust in your authority. Now you have brand awareness and a new patient.
You don't need to have daily content to accomplish this so long as you post on a semi-regular basis. You can capture those patients that are on the fence and become an authority within the industry. This can even lead to other businesses within the industry referring back to you as that authority. That is a huge aspect of any successful website.
Google My Business
Online business listings are becoming more and more essential for a lot of reasons. Having a Google My Business page is perhaps one of the most important things that your business should have if it hopes to rank highly in relevant search results.
One common mistake is that businesses take out a GMB listing but don't put in enough relevant information. That incomplete information not only results in issues with their SEO ranking, it also causes frustration among customers who want to find information out about your business but can't.
When opening a Google My Business listing, it is imperative that you include all relevant information. This includes the name of your business, the address, and the phone number (NAP) as those are three of the most important pieces of information for any business.
Another great use of a Google My Business listing is posting pictures of your practice. Post real pictures of your staff and offices. This allows users to see your practice as it actually is, allowing them to feel like they know your practice on a personal level. Don't forget to track your clicks to gauge performance.
Implement Video
One of the fastest-growing mediums on the web is video. Video allows a business to provide information in a new and interesting way. Best of all? Shooting informative videos is easier than ever before. It can even be done on a smartphone.
Being able to shoot quick, cheap, high-quality videos is an asset to any business on the web and is growing daily as a viable option for delivering content. Optimizing your content is fine and well, but attention spans are shorter than ever. Getting people to read anything, let alone posts on a website, can be a difficult endeavor.
Make the most of the video capabilities. Film posts related to specific health topics and even perform live Q&A sessions. This is a great way to drive interaction with your audience, drawing unique clicks to your website.
Video can also be incorporated through platforms like Instagram and Facebook Live. Creating these live, streaming posts creates a sense of appointment viewing. Your audience will feel compelled to join because of a fear of missing out.
They have to click to see what it is you are talking about and those clicks could be the one that converts someone who is on the fence about your practice. Reaching your audience is fine and well, but really reaching your target audience is essential if you want to convert more of those leads.
Local and Medical SEO are Changing Everything
Local SEO, in particular, has changed the game. Before, everyone on the web was competing for the same digital real estate, fighting for relevance on a limited number of keywords. But local SEO has refined that approach.
Local SEO is the method of refining those keywords down to a geographic location. And the vast majority of businesses only serve a certain geographic location anyway. Why would your Forth Worth area business want to compete for clicks from someone located in New York? The short answer is that you wouldn't.
Local SEO allows you to rank for keywords that are refined to your service area. So instead of competing with everyone on the web, you would only have to compete with other relevant businesses in the Forth Worth area.
That ability to refine down the competition and reach your target audience more easily provides a game-changer for small, localized businesses. This is the same case for Medical SEO: it allows practices in a given area to find their target audience and reach them in a far easier manner.
If you want to keep your medical practice growing, finding new patients that are the lifeblood of any medical practice, then implementing medical SEO is a must. Technology has made marketing in the digital world a necessity regardless of your industry; the medical field is no different.
There are plenty of other things that you can do to up your medical SEO game, but these tips will give you a head start on appealing to your target audience in new and unique ways. Patients in your area will be able to find your practice easier than ever before and your bottom line will be thankful for all of those technological progressions.