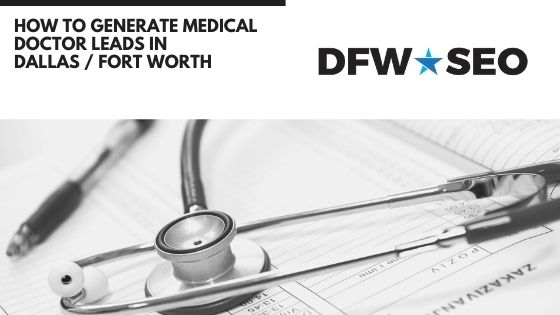 What Are Medical Doctor Leads?
Medical Doctor Leads, or MD Leads, are prospects inquiring about a doctor in their local area. Leads can come from various online channels, including a website, Google My Business listing, and social media platforms. Once the prospect supplies contact information, they become a "lead" to follow up.
Lead Generation for Doctors
So how do doctors generate leads online? The omnichannel approach is the superior method. For example, you would implement medical SEO, website design, social media advertising, and other marketing techniques to create full visibility on the web. Reputation management is a critical component in attracting consumers since medical professionals must be highly qualified.
Create a Website
To get DR leads, you must first have a website. While many prospects may find you on other channels, your website remains the central hub through which every other channel connects. For example, your Google My Business listing has a field for a website, which means you must have one to market your services properly. The best websites are designed with a custom codebase and display clear and convincing calls to action. It helps showcase verified reviews on your website from 3rd party platforms like Google, Yelp, and Facebook.
Claim Your Google My Business Listing
Doctors need to claim their GMB listing to acquire more medical leads. Consumers vet doctors thoroughly so that they can trust that medical issues are appropriately addressed. It's essential to accumulate reviews for your clinic unless you want to lose prospects to competitors in your area. GMB listings should also show Q&A and FAQ sections so that prospective patients can get a better feel coming in. Uploading custom photos from your office helps create a sense of comfort for the prospects.
Create Social Media Profiles
While business primarily comes from Google, it helps to create social profiles for both signaling and visibility. Google respects entities with a robust omnichannel presence, which means your company on Facebook, YouTube, and other social channels is imperative. The goal is to produce content worth sharing on social media. For example, writing highly-entertaining blog posts that inform potential patients are sufficient content marketing opportunities. As people engage with your social content, Google acknowledges the signals and attributes them to your brand. 
Create NAP Directory Listings
For medical doctors, it is essential to get listed on as many qualified directories as possible. The idea of NAP consistency is overstated, but it helps to build your web presence for signaling purposes. It's not as much about having the exact suite number written repeatedly as it is about showing Google that you are a real business. HealthGrades, WebMD, and ZocDocs are three of several reputable doctor directories to boost signaling. You can encourage patients to leave reviews on each of these platforms, along with Google and Facebook. Trust makes a big difference.
Can Dallas / Fort Worth SEO Help Generate Medical Leads?
Yes, DFW SEO helps generate medical leads for doctors in DFW. We have been building websites for more than a decade and have years of data to help launch your campaign. We make sure that doctors can acquire as many new patients as possible with our strategy. But our goals don't end with merely creating visibility. We also produce websites that convert. Furthermore, we include exclusive reputation management software that helps medical doctors maximize their conversions and create sustainable growth.