The Rise of Social Media
Although many small businesses do not think of Facebook, Twitter and other social media outlets as critical to their company's success, an increasing amount of evidence points to social media as a critical component of a proper web presence. In fact, research conducted recently has demonstrated that consumers are over 80% more likely to trust a company with a social media presence than one without it. This staggering number points to how important social media has become. And not only does it influence how consumers view you, it also influences how Google sees you.
The Importance of Social
So what role does social media play for your company? As a local service company (such as plumbing, HVAC, roofing or auto) you may not see a significant use for social media. But no matter what your business is, social media is truly important to how clients view you. As the world of the web continues to change people are increasingly interested in social outlets for garnering their opinion of a company. A website is a form of push marketing, i.e. you do all the talking and say what you want to about your company. Whereas social media is interactive. It allows consumers a chance to join in the conversation.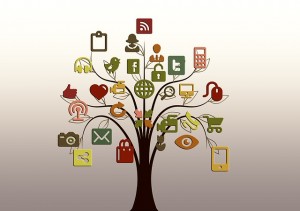 The following are all reasons social media is helpful for your business' web presence:
Verifiable: One reason social media is important is that it provides another outlet for Google and consumers to verify you are who you say you are. An active social media presence indicates you are an operating, legitimate business.
Engaging: Social media outlets are a great way to engage your audience. Engagement means your clients will keep coming back to your social media outlets and website to hear what you have to say. This keeps you in the forefront of their brain so that when they need services they will think of you first.
Builds Trust: As you consistently maintain a quality online presence through social media you will build trust with potential clients and Google. You will demonstrate your authority through relevant and unique postings.
Informal Platform: Social media is also a great way for you to present less formal information. This helps your brand appear more human which leaves a better impression with potential clients.
Social Media Management
Because of the importance of social media to SEO, you should have a social media management plan in place for your business. At Dallas Fort Worth SEO we provide our clients with a social media plan. We help you set up all relevant social media outlets, and then we help you maintain them. Google wants to see that you are not only present, but that you are frequently posting and engaging your clients.
So remember, no matter what your business is, do not underestimate the importance of social media to SEO.