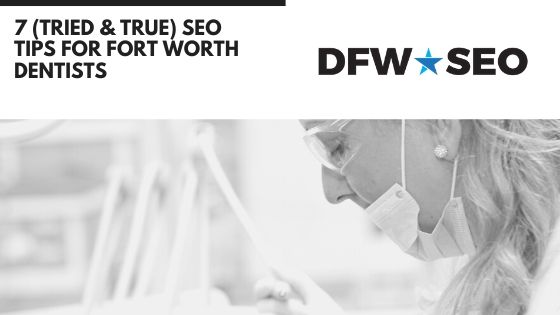 Oral health is becoming more important to us all these days. As a matter of fact, a recent study conducted revealed that 95% of Americans believe that their oral health is extremely essential to their overall health.
This is one of the main reasons that charcoal powders and teeth whitening kits are so popular right now. But the fact of the matter is that no product can replace the dentist. And now that more people are looking to spend to get that "million-dollar smile", they are looking for the right dentist for them.
The fact of the matter is that if you own a dental practice, one of the needs that constantly face your business is getting more patients and clients to use your practice. The best way to achieve this is by making certain that your website is fully optimized to the latest SEO standards.
This method is the best option for dental clinics because 90% of people will use a search engine to find a local business that is in their area and 93% of online experiences start with a search engine like Google. That means a massive number of potential clients out there that you might not be reaching.
Being able to properly optimize your website is the key to getting more clients into your practice so that you can continue to grow your business and expand on your client list. But what SEO techniques should you be implementing?
1) Keyword Research
It does not matter if people are typing their queries or saying them via voice search, keywords are the way that people find what they want on search engines. That is why having a narrowed focus on the right keywords can greatly benefit a dentistry practice.
Keyword research goes a long way towards finding the right keywords for your business. Think about what a client might search if they were looking for a dentist's office. It would be things like "dentist", "dentist + location", "dental surgeon + location", "orthodontist", and the like.
There are, of course, a ton of different variations that you could implement. Use research tools to validate or eliminate the keywords you select. Details that you can get from keywords that will tell you why to target them are things like competition, search volume, paid difficulty, SEO difficulty, and more.
Knowing what keywords to target and why is a great place to start.
2) User Intent Optimization
In the early days of SEO, you could just spam keywords to get a higher search ranking. Google has made changes since then and now you can actually get in trouble for doing that.
For this reason, it is essential to understand the intent of the user when they search. There are typically four types of user intent keywords: navigational searches, informational searches, commercial searches, and transactional searches.
Understanding the difference between each of these and how they influence the intent behind a search can help you better understand why a user is searching for the keywords related to your practice. Not only that, it helps you to refocus your keywords so that they are more frequently triggered by those potential clients implementing the search.
User intent is still a developing practice. The more we learn about it, the better we can target the keywords that help our particular business.
3) Website / URL Structure
Your website is the key to your business. It is more often than not the first exposure that a potential client has to your business. What they see in that first visit will dictate their opinion of your business going forward.
That said, understanding what users want in a search is imperative to know. There are four main aspects to building a good website structure: making your website easier to navigate, improving speed, optimizing for mobile, and including internal links.
Speed and mobile are particularly important. Now, more than ever, users are impatient. They simply will not tolerate a website that takes more than a handful of seconds to load before moving on to the next choice. If your website drags, it will drag those potential leads down with it.
Mobile, meanwhile, continues to grow. The number of users that perform their web-related activities on their phones has sky-rocketed. Simply put more and more users are beginning their searches on their smartphones and websites that are not properly equipped will lose out on potential leads.
These are just a few of the factors that contribute to your overall SEO ranking but they are two of the most important practices in SEO right now. If you don't have a fast, mobile-friendly website, you need to remedy that immediately.
4) Local SEO
One of the biggest changes to Google's search algorithm is that it has narrowed the scope of searches. Before, you would compete with everyone else across the web for a particular keyword. This gave the advantage to those websites with bigger budgets, making it next to impossible to get onto the first page of search results.
But Google has changed the landscape by implementing local search functions. This narrows those keywords down to a geographic location. So, if you search for a dentist, you aren't going to get every dentist ever, you will get the ones that are within your designated geographic area.
This helps users to find more relevant results that are in their area and allows businesses to carve out a more important chunk of real estate in search results. If you aren't optimizing for local results, you are doing your business a great disservice.
Start with a Google My Business page. This is akin to what a phonebook listing used to be. It has all of your important information and can greatly affect your SEO score for local searching. If you are missing essential information, you can be hurting your website in the overall rankings.
5) Content Value
Perhaps now more than ever, websites need to focus on quality content. This is because Google has placed more value than ever in that quality content. They want to provide users with the most authoritative and informative websites in their search results.
To achieve this, your website should absolutely have a blog. Your blog can be the spot where you provide content on relevant industry topics. Perhaps a user is looking for more information on root canals; your blog can be that authoritative and informative destination that they choose to get their information from.
Having an FAQ is a great idea as well. Here, you can answer a lot of the relevant questions that your target audience may have. When you make your website the destination for users seeking information, you become appointment surfing.
6) Inbound Link Building
Backlinking is still as relevant to SEO score as it has ever been. The reason for this is that, if a website wants to link back to you, it means you are seen as being a relevant website to the topic at hand. Building credible and relevant links will only strengthen this.
This can be achieved a number of different ways. Partnerships with relevant websites around the net can be a particularly good way to do this. Sharing links can grow your authority within the industry and help to strengthen each other's SEO scores.
Another great way to achieve this is through guest blogging. You can encourage guest bloggers to help you reach a new audience and also increase your authority as an expert within the industry.
You can also achieve link sharing by answering in forums. When people have questions, they want answers from the experts. And who better than an expert on the industry to answer their questions?
When you establish your credibility and authority this way, you can add backlinks to your website, thus strengthening your overall SEO authority.
7) Measurement & Analytics
Implementing all of these measures is all fine and well, but if you aren't keeping track of what is having the most impact and what needs work, then you are wasting your time. You have advanced statistics at your disposal and you should absolutely be using them.
Checking your visibility is an important statistic to follow. This allows you to know how many of your keywords that your website is ranking for. Even if you aren't seeing traffic yet from search engines, you can tweak your keywords to rank higher for more keywords.
Organic traffic is also important. This is the number of visitors that are coming through your website through search engines. You can accomplish this in Google Analytics by adding a segment. This will show you the number of visitors that are coming to your website through those search engines.
These are all important steps to implement so that your website is attracting new eyes. This can come from standard traditional searches as well as growing your organic search rankings. Whatever you implement, you need to make your website as strong as possible because it is the lifeblood of your business as a whole.
Optimize Locally in Fort Worth
SEO for dentists in Fort Worth can help grow your clinic. When you appear on the Local 3 Pack and organic results, you are going to get more clicks. Local optimization like Fort Worth SEO is more logical than national optimization because it can get you seen by consumers within your proximity.