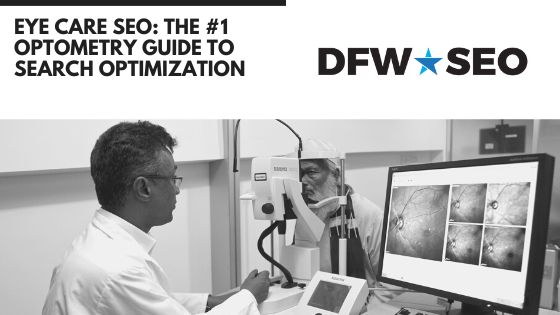 Eye care SEO helps optometrists rank #1 on Google for various keywords. So if your goal is to reach more patients for your optometry practice, eye care SEO should be a top priority in 2022.
There are multiple ways SEO can generate more optometry patients in 2022. For instance, when a nearby user searches Google for a term like optometrist near me, the results show a Local Map Pack followed by traditional results. So ranking your business in both spots is critical to success.
In the following guide, Dallas Fort Worth SEO outlines the steps necessary to master SEO for optometry in 2022. You will learn how to rank in Google's Local Map 3-Pack and traditional organic results. In addition, you will discover how to leverage SEO traffic into new patients.
What is Eye Care SEO?
SEO stands for search engine optimization. It is a form of marketing that promotes optometrists on search engines like Google. Search results are ranked by quality, relevance, and various other factors. As a result, the goal is to rank #1 for relevant keywords and drive traffic to your website.
Why SEO Matters for Optometrists
The further down the page you go, the lower the result rankings are. According to a survey, the top three search results garner 75.1% of all the clicks. That means that 75.1% of people who do an online search don't bother with the results outside the top 3.
When your site doesn't get clicks, you lose out on leads and are much less likely to land a new patient. So even though eye care is an essential service, you still need to be able to be seen by your potential patients.
That's where eye care SEO comes in. Through the tactics that make up SEO, you can increase your rankings and make it more likely that people who search for eye care in your area will find your website.
Perform Keyword Research
One of the things that will help you rank higher is a keyword strategy—search engines like Google present search results based on a user's query. When enough users perform the same query, it becomes a keyword. You can use 3rd-party tools like Ahrefs to find keyword volume.
However, remember that keyword strategy is about more than sheer volume. For example, some optometrists want to rank for technical services like amblyopia treatment, but how often do you think people will search the term amblyopia? That's why keyword volume often mirrors layman's terms. So amblyopia treatment turns into lazy eye treatment.
Focus first on your treatments and find keywords that match user intent. For example, you can list keywords that center around treatments and services such as eye exams near me, vision therapy in dallas, or affordable prescriptions for eyeglasses.
Once you have a good list, compare your keywords with the Ahrefs keyword tool. Ahrefs helps you find the keywords people use most to find your services. Then, incorporate these keywords into the content of your website so that search engines like Google will know that you have relevant information on your site. 

Claim Your Google Business Profile
Google makes it easy to devise a basic SEO strategy for your practice, no matter how large or small it is. Any legitimate ey care facility can claim a free Google Business Profile, which you can verify via postcard.
Google Business Profile is free to use and will allow your business to rank on the Map 3-Pack for nearby users. In addition, your Google Business Profile listing shows consumers important information like phone numbers, reviews, and FAQs. And all you have to do is claim your business.
Claiming your optometry office will make you more visible to local patients, whether they find you through the Local Map 3-Pack or by searching your brand name (which will also pull up your profile).
Acquire Patient Reviews Online
Reviews are how people in 2022 get critical information on your practice. They can be the difference between getting more patients and repelling them. But it all starts with getting reviews in the first place. You must be present on platforms like Google Business Profile, Yelp, and ZocDoc.
Encourage your patients to leave a review for your practice with a follow-up email after treatment that includes a link to your review profiles. Managing different review accounts can be a significant chore. However, reputation management tools like DataPins simplify the process.
Healthcare reviews like optometry tend to generate the most negative reviews. As a result, it is vital to keep a professional etiquette when responding to unfavorable feedback. In addition, maximizing the number of satisfied patients that leave reviews becomes even more paramount.
Create an Optimized Website
You don't need a website to rank in the Local Map 3-Pack, but you do need one to rank on traditional organic results. Some businesses ask, do I really need a website if I rank #1 on Google Maps and the Map 3-Pack?
First, it's nearly impossible to rank #1 on Google Maps or the Map 3-Pack without a website. Although these results use a separate algorithm from the traditional results, this algorithm still accounts for website authority. Google Business Profiles that list an authoritative website on their listing typically rank higher than profiles that leave that slot blank.
Secondly, the #1 organic result gets 27.1% of all clicks. In contrast, the #1 Map-Pack result only gets 17.3%. You might be surprised that many people skip over the Map 3-Pack results, but the numbers show it happens. Of course, ranking in both spots nets you 44.4% of the SERP. That's pure domination.
To achieve this goal, you are going to need an optimized website. We discussed the keyword strategy that will determine how you set up your service pages, homepage, and other SEO assets. You must also ensure your website delivers a great user experience with fast speeds.
Lastly, ensure your website makes it easy for patients to contact your office. For example, it helps to showcase a clickable phone number in your site's header and footer. In addition, make sure your address appears on your website's footer and matches the address on your Google Business Profile.
Help With Eye Care SEO
Dallas Fort Worth SEO knows a lot about search engine optimization and its proper implementation. You can contact us to help start your SEO campaign in 2022 and acquire more patients for your practice. Our staff consists of SEO specialists, web designers, programmers, and content writers. We know what it takes to rank with thousands of clients on board.