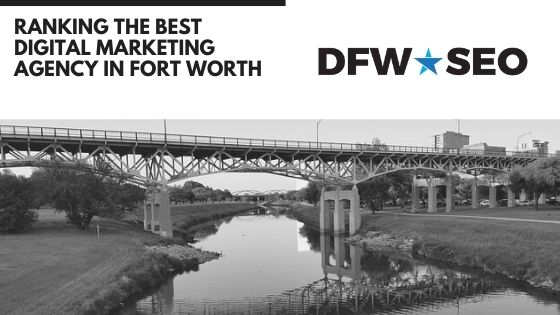 The Dallas Fort Worth area is a bustling metropolis brimming with commerce. So it stands to reason that there are a lot of marketing agencies in operation, helping these businesses get noticed in the crowd. If you are a small business owner in the Dallas, Fort Worth area, you may be wondering what your options are in terms of marketing.
Make no mistake about it; digital marketing is vital if you want to thrive in this city. That's because there is a lot of competition, no matter your industry. Dallas is home to over 65,000 businesses. If you want any chance of pulling the attention of this massive crowd, you need help on the digital marketing side. 
But how do you know a good digital marketing agency from a bad one? What are your options? What is the best digital marketing agency in Fort Worth? We're here to help. We have compiled a list of some of the best digital marketing agencies in Fort Worth to help you narrow down the field and make an informed choice.
1) Dallas Fort Worth SEO
Areas of Expertise:
Local SEO
Reputation Management
DataPins Tool
Content Marketing
Website Design
It's always a good thing when your digital marketing agency has specific experience with your industry. Dallas Fort Worth SEO is an excellent example of how finding the right fit for your business can yield great success. By focusing on a narrower niche, the company can cater to contractors' specific marketing and business needs.
Our company has a deep history in local SEO, which helps local businesses get noticed by more consumers in their area. In addition to web design, PPC advertising, and local SEO, the agency has a successful track record in content marketing and reputation management.
DFW SEO also has a secret weapon with the DataPins tool. Contractors can automate their review requests through text and email to increase testimonials on Google, Facebook, Yelp, and other platforms. Furthermore, DataPins populates user-generated content from job pins and reviews to the appropriate pages.
2) DKRM Strategies
Areas of Expertise:
YouTube Marketing
Search Engine Marketing
These days, content marketing is critical. So if you are looking for a digital marketing agency in Fort Worth that will help you stay ahead of the latest trends, DKRM Strategies is a good partner.
They do great work in content and social media marketing. They can help you get noticed via highly-utilized outlets like Facebook and YouTube. In addition, DKRM Strategies have experience working with high-profile Dallas/Fort Worth companies.
3) Enilon
Areas of Expertise:
Data Analysis
Customer Strategy
If you believe in hard statistical data and figures, Enilon may be a good fit for your needs. Analytical strategy and technical testing are essential when running any digital marketing or advertising campaign. It would be best to see what is working and what isn't plainly.
Enilon is well-known for advanced data analysis and can help you understand complex calculations. They also devise customer strategies (lead generation, conversion, customer loyalty, sales funnels, etc.) that will help earn you more business. 
Their team is one of the most experienced in the city as well.
4) BGD Digital Marketing
Areas of Expertise:
In-house graphic design
Web design
BGD Digital Marketing is an excellent choice if you want a unique, original website and an effective social media marketing campaign. And these days, social media marketing is a huge chunk of digital marketing as a whole.
You can rely on BGD Digital Marketing for original graphic design that you can utilize across your social media outlets and, of course, your website.
Another thing we like about this agency is that they are known for taking the time to work closely with their clients and understand the doctrine and values of their companies.
In this way, BGD Digital Marketing allows you to create a successful digital marketing campaign that highlights what makes you and your company unique.
5) Life In Motion Marketing
Areas of Expertise:
Online reputation management
Social media marketing strategy
Life in Motion Marketing has been working with Dallas and Fort Worth businesses since 2011. The agency comes through for small companies that are just getting started with social media marketing.
They take a hands-on approach to devising an effective social media marketing strategy which is essential when you have a particular target audience or customer base.
The Best Digital Marketing Agency in Fort Worth
Of course, we have to toot our horns a little bit. Here at Dallas Fort Worth SEO, we have a vast client portfolio that includes over 250 businesses in the Dallas Fort Worth area.
We offer a complete array of digital marketing services, including PPC, local SEO, web design, content marketing, etc. So please find out how we can help your Dallas/Fort Worth business thrive!