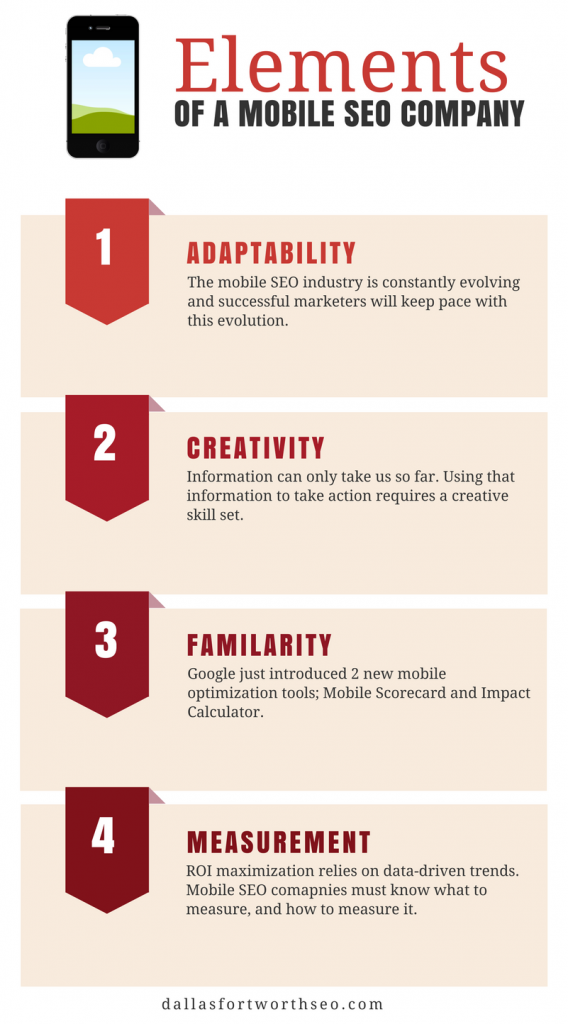 Search Engine Optimization is a fluid concept. This is especially true when referring to optimization that takes place on mobile devices, a practice often referred to as mobile SEO. There can never be set-in-stone rules for mobile optimization, as the term itself references a dependent strategy. As Google algorithms get more sophisticated, the means of ranking on their search results adapt accordingly. In general, Dallas – Fort Worth businesses should look for the following in a mobile SEO company:
Adaptability
If you're not getting better in the optimization world, you're getting worse. By the time this post is published, search optimization will have evolved in some way, even if it is seemingly insignificant. These constantly improving algorithms require an adaptable mobile SEO strategy. Any company in charge of your mobile marketing should be aware of:
Algorithms: Updates and / or changes to the Google algorithm
Design: Methods of mobile web design, including r
Trends: Indicative patterns drawn from behavioral data
Creativity
Data is as valuable as its subsequent use. In other words, knowledge of market trends only goes as far as a company can take it. A mobile SEO company worth investing in will be creative enough to implement data driven information into a tangible result. But what does creativity look like for mobile search optimization?
Graphic Design: Mobile graphics are a niche skill, and one that should be properly marketed
Interaction: Inquire about interactive methods and how users are presented with information
User Interface: Ask for samples of mobile website designs, paying extra close attention to UX
Familiarity
Any mobile SEO company worth their weight will be up-to-date on the latest mobile marketing standards. Google has recently introduced both the Mobile Scorecard and Impact Calculator as predictive tools for how a mobile website will perform online. To be certain that a company is invested in modern standards, ensure they are familiar with:
Impact Calculator: A projection of lost conversion revenue based on site speed
Mobile-Friendly Test: A intuitive testing tool that measures various aspects of mobile usability
Mobile Scorecard: A comparative analysis tool that focuses on site speed
Test My Site (Mobile Speed Test): A raw measurement of a mobile site's speed
Measurement
In 2018, all marketing campaigns should be data-driven and analytically sound. With tools like Google Analytics, it's easier than ever to measure user behavior. A good mobile optimization company will be able to present measurable data that reveals user behavior and interaction with your mobile website. Examples of metrics include:
Bounce Rate: The rate at which users exit your website upon entrance
Conversion Rate: The rate at which mobile users complete a desired digital action
Site Speed: The speed at which your mobile website loads
The #1 Dallas SEO Company
Looking for a mobile SEO company in Dallas – Fort Worth, TX? If so, you have come to the right place. Dallas – Fort Worth SEO is the leader in search engine optimization throughout the DFW metroplex. Our services focus specifically on mobile design, a trend that we project to ascend upward in 2018. By partnering with us, your website is assured to be mobile-friendly, fast, and optimized for search. To learn more about mobile search engine optimization, or to inquire about price, give us a call at 800.231.4871.