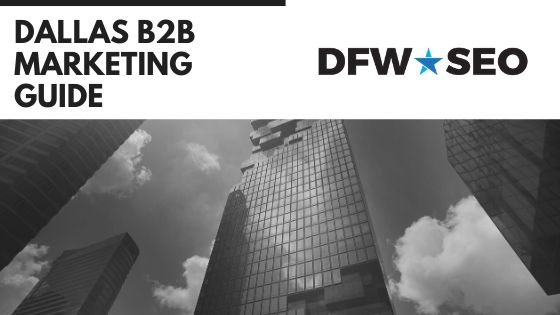 Marketing can be a challenging game if you don't really know how to go about it. What you might not have realized is how specific marketing can be. Many businesses focus their marketing towards individual customers, but there is another type of marketing: B2B.
B2B is business-to-business marketing and makes reference to any kind of marketing strategy that is more aimed towards an organization or business. When a company sells products or services to any other business or organization, they will typically use B2B marketing strategies.
What is the difference between B2B and B2C Marketing?
Though it might not seem like it, B2B and B2C (which stands for business-to-consumer) marketing are really quite different. There is a huge difference in the strategies that both employ as well as their applications. Not only that, there is a difference in their audiences and just how they communicate with those audiences.
B2B Marketing. This targets the interests, needs, and challenges of those individuals that are making purchases either for or on behalf of their organization. This makes the organization itself the customer. A few examples of B2B companies are:
An order fulfillment, screen printing, or warehousing service.
A marketing software company that specializes in lead generation software, social media management tools, and other marketing tools to organizations and businesses.
A coworking space that would lease office space to freelancers and remote teams
B2C Marketing. This is more geared towards the interests, needs, and challenges of individual consumers who are making purchases for themselves. Here are just a few examples of your average B2C company:
A store that sells things like t-shirts and other clothing accessories (think Target)
An e-commerce company that sells goods like office supplies to self-employed or remote individuals (think Poppin)
A platform that sells streaming subscriptions
As you can see, the different type of marketing depends on the audience that is being targeted. This is why advertising and marketing for B2B and B2C companies can vary quite a bit.
B2B Marketing Strategies
While it is important to note that B2B and B2C marketing can vary, that doesn't mean that all pieces of B2B marketing material are the same, either. There are a number of different strategies that you, as a B2B Dallas Business Owner can implement.
B2B Email Marketing
Email marketing remains one of the most consistent methods of reaching individual customers as well as business customers. What you might not have realized is that a whopping 93% of B2B marketers actually use email and your business should definitely be among them. These emails ultimately lead to engagement, which then turns subscribers into those ever-valuable leads, and those leads to eventual customers.
B2C customers are generally responding based on entertainment and emotion, whereas B2B customers are looking for things like logic and a positive ROI (return on investment). They are looking for things that can help their business grow.
For this reason, your email marketing has to be able to resonate with these business customers and focus on the things that will ultimately matter to them: money, time, and resources. Not only that, using email marketing is a great way to share your brand's content.
Another interesting stat: 83% of B2B companies use things like email newsletters as a part of their content marketing program and 40% of them say that their newsletters are the most critical aspect of their content marketing success. The key here is to be creative and to send out marketing emails that will stand out, making them effective marketing tools.
B2B Digital Marketing Strategy
Regardless of the business, having a digital presence is imperative. This is comprised of search engine optimization, paid ads, having a website, and so much more. Each of these is critical to the digital marketing capabilities of a B2B company.
These are a few of the things that a business needs to take into consideration when it comes to their individual B2B Marketing strategies:
Know your target audience
You can't hope to have a successful marketing campaign if you don't know who your audience is. Having the right demographic information will have an impact on just about every other aspect of your digital marketing campaign. Ensuring that your content is absorbed by the right eyes and ears means that your campaign is as targeted and refined as possible and that your resources don't end up going to waste by trying to target the wrong type of audience.
Your website is one of the biggest factors
Without a website that is engaging and informative, your digital marketing campaign can't quite function the way that it is meant to. A whopping 80% of buyers tend to visit the website of the business before they make a purchase. For this reason alone, having a great website is an essential aspect of digital marketing.
Because B2B sales can have a number of different people involved, like decision-makers or gatekeepers that have to okay the purchase, having an informative website is a straightforward, easy way to share information about your business with potential customers.
Optimize your presence
Having a website that is informative, engaging, and that stands out in a positive manner is all fine and well, but it has to be discoverable, too. To do this, you have to ensure that your on-page SEO and technical SEO tactics are up to snuff.
This includes a litany of things from meta descriptions and alt-text for your images to things like site speed and structured data. You also need to take into account things like social sharing and external linking strategies to ensure that your business is discoverable with the relevant searches and keywords.
Run Pay-Per-Click Ad Campaigns
Pay-per-click (PPC) advertising is becoming a great way to keep your brand in front of your target audience while only paying for those ads when they are actually clicked on. This keeps your brand and content in front of audiences through search engines as well as other advertising platforms.
Those PPC ads will then follow the user around to different sites they visit, keeping your site in the consciousness of the user. When they finally click on it, your goal has succeeded. For smaller businesses, this is a great way to maximize your ad budget.
One of the best ways to see an ROI from paid ads is to incorporate your buyer persona data and to boost content that they can relate to. Think about it: a consumer who has never heard of you is not likely searching for your product. They might search based on location or product features. To reach the largest number of potential customers, you can pay to target certain categories within your brand. This makes for an essential aspect of digital marketing campaigns.
B2B Content Marketing
Though we have already touched on the differences in B2B vs B2C, there is another thing to take into consideration. B2C marketing generally has to interrupt a consumer's day-to-day protocol with those promotional materials. With a B2B, those content marketing strategies will add information and inform the consumer.
Being able to provide that essential information to those B2B customers works much differently and the delivery is much different as well. This is why creating content that is informative is the most important aspect. You are trying to give these B2B companies all of the information that they should need to choose your company.
Creating a business blog can be a great way to achieve this. Having a great website is key for a lot of reasons, but giving your audience informative content is one of the most important. Potential customers who find all of the information that they need on your website will likely choose your business.
B2B Social Media Marketing
The numbers for social media marketing are incredible: 75% of B2B buyers and 84% of C-Suite executives make use of social media before making a purchase. B2B companies tend to struggle with their social media marketing, though.
This is because it is harder to connect with business customers than individuals due to longer chains of command and a lengthier sales cycle. This aspect of marketing isn't so much about converting leads, it is about connecting with other businesses, humanizing your own, creating brand awareness, and giving your company more of a personality online.
Social media can also be a very effective tool for enhancing your brand and sharing your content. The more avenues that you have to get that information about your company out to your audience, the more valuable it is to your overall marketing strategy.
Developing those B2B contacts and turning them into sales mean everything to B2B businesses. There are a number of ways that every B2B company should be trying to establish a digital marketing campaign and they are all valuable to growing and developing a B2B business.
Understanding your audience – what their wants and needs are – and working to develop that audience is the biggest key to orchestrating a successful B2B digital marketing campaign.