What is an SEO Audit?
An SEO audit is the process of evaluating a website or webpage for characteristics that influence search rankings. The goal of an SEO audit is to highlight areas that require improvement in order to increase ranking position on search engine results pages (SERPs). Audit's can be performed for both specific pages, and entire websites.
The SEO Auditing Process
The first step in a search engine optimization audit is ensuring proper indexing for the page or website in question. Search engines index each page as an individual entity, so digital marketers should act accordingly. A simple way to gauge a page's index is to perform a search query of the root domain as verbatim text. For this website, a search of dallasfortworthseo on Google, confirms that the website's homepage has been indexed: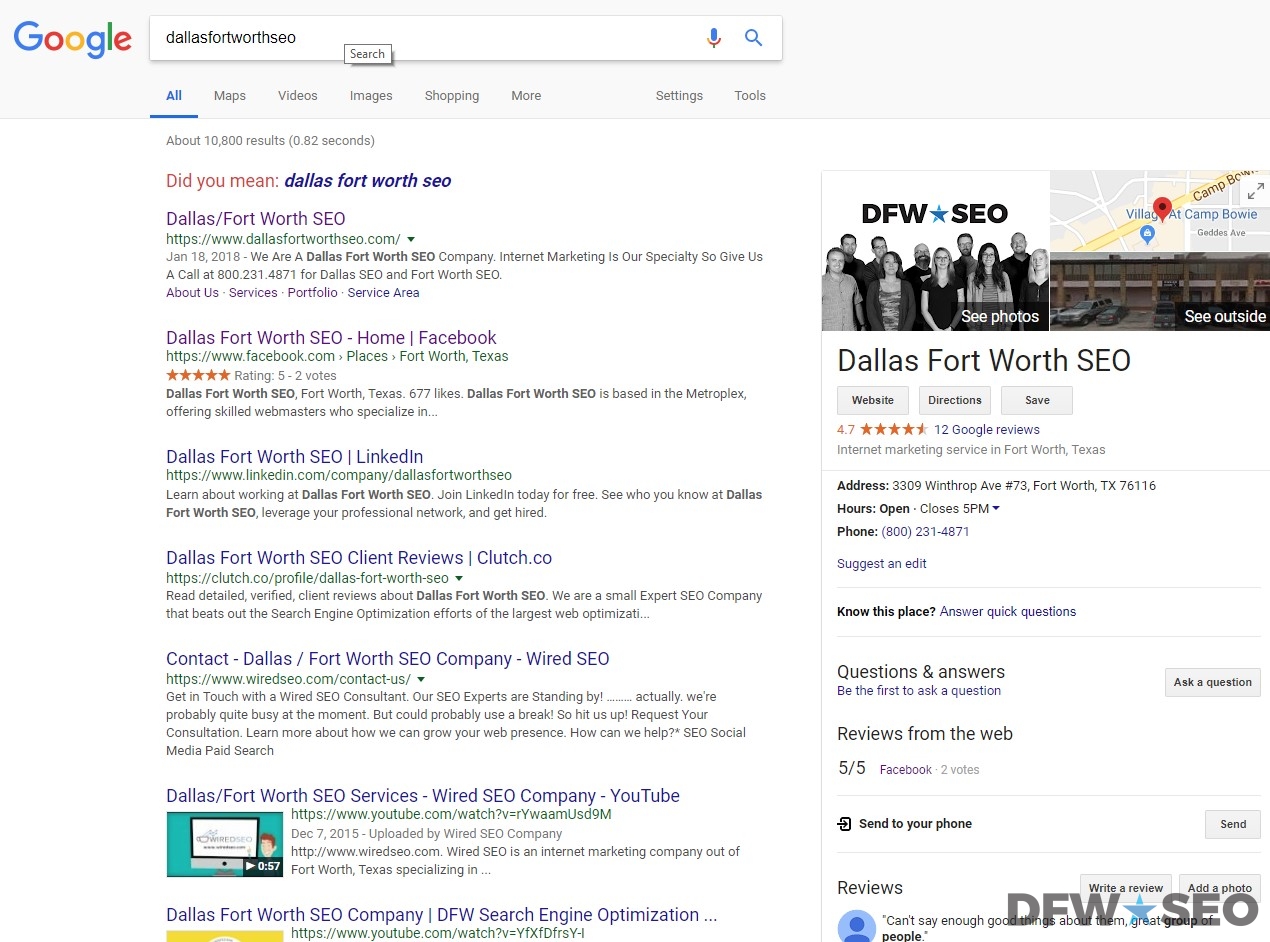 What If My Page is Not Indexed?
If a query of your brand name fails to produce its home page, it's possible it has not been indexed. The most common cause of failed indexing is misuse of the robots.txt file. There are also cases where the meta tag of an individual page instructs search engines NOT to index it. Google Webmasters offers a free robots.txt test tool which allows web developers to note errors within the txt file, as well as pages it disallows Google web crawlers from indexing. While the robots.txt file is a macro level instruction for search engines, robot meta tags work on the individual page level, as the inclusion of "noindex" can notify web crawlers NOT to index the page.
How Do I Index My Page?
The most efficient way to ensure page indexing is with XML sitemaps. This file is meant to be submitted to Google, so that it can be notified of new pages that require indexing. You can learn more about how to build and submit a sitemap to Google, by reading through their Search Console help page. Depending on the industry your website represents, new pages may be added frequently, semi frequently, or infrequently. Regardless, it's best SEO protocol to help Google interpret and index pages as they are published.
More SEO Auditing Fundamentals
Making sure your pages are indexed is an important first step to an SEO audit, but it is still just that; a first step. A company with formidable credentials will extend their evaluation to other aspects of your website, and its ability, or lack thereof, to rank prominently for relevant keywords. Dallas – Fort Worth SEO has auditors on staff ready to analyze your website and its respective pages on a case by case basis, paying close attention to detail and reporting on findings, and conclusions drawn from them. Other aspects of SEO that should be evaluated in an audit include:
Crawl / Page Errors: 404's, broken links, or any error that would disturb the crawling process
Image Optimization: The compression of photos, along with the presence of alt text, and proper file names / types
Link Profile: The inclusion of helpful internal links, as well as relevant outbound links
Mobile Usability: The presence of a mobile friendly display, as well as simple navigation
Site Speed: The assessment of page loading times, and preventive culprits
Site Structure: The evaluation of the site's hierarchical structure, including URL slugs
Dallas – Fort Worth SEO
For a a full SEO audit, contact Dallas – Fort Worth SEO. We have experts on staff that specialize not only in search engine optimization, but in website design, content marketing, and social media management. Unlike auditors who can merely report their findings, our team can both diagnose and fix problems with your website's optimization. We have the range of skills necessary to improve every aspect of your company's search visibility, and can have you ranking towards the top of SERPs for relevant keywords. To set up an SEO audit from DFW SEO, give us a call today at 800.231.4871.