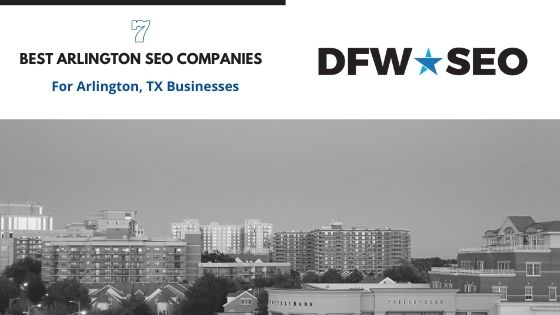 Which SEO companies are the best in Arlington, TX? Dallas Fort Worth SEO examines the top digital marketing agencies in the Arlington, Texas, area. As a local business owner, it makes sense to trust a local agency.
1) Dallas Fort Worth SEO
You might look at this ranking as self-serving, but DFW SEO is the best Arlington, TX SEO agency. We have written about why Arlington business owners can benefit from SEO and published a location page for Arlington-based services. You can see some of our benefits below:
Month-to-Month Agreements (No Long-Term Deals)
Custom Website Design for SEO Boosts
Extensive Keyword Research to Find Long-Tail Terms
Work With a Wide-Range of Industries
2) Digital SkyRocket
Run by Chad Barnes and Jacob Shulenberger, Digital SkyRocket has offices in both Tyler and Dallas, TX. But, of course, they also work with Arlington business owners, including those in the law, roofing, HVAC, and plumbing industries, among others. Some of their main benefits include:
Texas local (in Tyler and Dallas)
Work with an excellent range of niches
Offer SEO, web design, and content strategy
3) D3 Agency
D3 provides professional services that merge strategy consulting and technology. They offer specialized solutions across multiple marketing facets, including marketing, software development, and IT. D3 is among the most technically sound SEO providers in the entire nation.
Technically advanced agency
Combines SEO with technical solutions
Offers consulting along with services
4) SEOTeric
SEOteric offers SEO services for Arlington business owners despite being located out of state. Their agency specializes in attorneys, doctors, and franchises, making them a practical option for business owners in those categories: their services include design, SEO, and Google Ads.
Specialize in law firm and doctor SEO
Provide a diverse set of services
Award-winning Facebook Ads agency
5) JG Marketing
Jameson Grace Marketing provides SEO expertise in Arlington. They provide digital marketing options to help boost an online presence. Their agency stresses the reduction of advertising costs to maximize clients' overall revenue. Some of their primary benefits include:
Link-building strategies
Budget optimization
A diverse set of services
6) Canz Marketing
Canz Marketing aims to accelerate growth for Arlington, TX business owners. As their case studies outline, they work with a wide variety of industries. Their services include WordPress web development along with local SEO and paid social media. Let's review some of their benefits:
Wide-Range of Services
Wide-Range of Industries
Facebook Rapid Fire Testing Method
7) Ascend Web Media
Ascend specializes in email marketing, SEO, and social media, which gives Arlington businesses an excellent opportunity to improve their online presence. In their own words, they work best with small and medium-sized companies to help increase revenue with SEO.
Don't guarantee rankings (a sign of honesty)
Work with small and medium-sized businesses
Provide email marketing services along with SEO
What to Look for in an Arlington SEO Company?
Choosing an SEO company can be stressful, especially with so many options. It helps to break down your potential choices into categories and go from there. Of course, you can filter your list down by considering:
Price
Your budget will eliminate some providers from your list. Be sure to look for price ranges on their websites. If no such price is listed, submit a contact form or inquiry to get more information.
Customization
Does their website appear custom or a carbon copy of another website? Does it look like actual employees work there, or is it simply a lead generation agency? These are things you can find out on their site.
Experience
How long has the agency worked with clients? You can usually find that information on the website, but it's best to confirm it by checking out their reviews and calling the agency yourself. Typically, a tenured agency will have an aged domain.
Fit
The best agency is not necessarily the best agency for you. The most important aspect of selecting an SEO provider is to make sure they fit your needs. Much of this depends on the type of company you run and what your online marketing goals will include in 2022.