Small business owners know how tough it can be to not only survive in a crowded industry but to grow and thrive. There are so many different factors that are worth considering that it can be easy to feel overwhelmed or lost when trying to make your business stand apart from the rest of the pack.
When you are located in a particular area, like Arlington, TX, there are a few factors that are more important than others. This is because your targeted audience is in a limited demographic area, so you aren't trying to appeal to quite as many people.
It has become more apparent in 2019 than ever that one of the most critical pieces to a small business is online reviews. Reviews on sites like Facebook, Google, Yelp, and so many more can actually make or break a small business.
Need convincing? Maybe you didn't know that a whopping 91% of people read online reviews in an occasional or regular manner, but 84% of them tend to trust those reviews as much as they would a personal recommendation. Statistics like these are why small businesses need positive online reviews.
But there is so much more about online reviews that you need to be aware of to fully understand why it has an impact on small businesses and their ability to survive. Here are just a few of the important aspects of online reviews that you as a small business owner need to concern yourself with and how to make them work for you.
Reviews will help your SEO
Businesses, now more than ever, have come depend on SEO (search engine optimization). This essentially is how those huge search engines like Google sort through the litany of sites out there and determine which ones are the most relevant to what the user is searching for.
When you optimize your website properly, you make it all the more likely that Google will recognize your website and list it among its top search results. When you can land on the top pages of massive sites like Google and Amazon, your business will see huge growth because of the sheer amount of eyes that are now on your business and its products.
What you might not have known is that your reviews play a huge part in your SEO rankings. The reviews for a company can influence where it falls in search rankings for the aforementioned sites. Google will gather review information from a wide variety of sites when it determines where a certain business will fall within its search results. Sites like Facebook and Yelp will determine a business' ranking based on the number of reviews and the overall review rating.
Reviews play a huge part of developing credibility
It should go without saying, but those online reviews can help or destroy your credibility as a business. Because the internet is so accessible, thanks to smartphones and tablets, more and more consumers are doing research on the products and businesses that they are interested in.
As mentioned previously, consumers use these reviews to get a sense of a company and end up trusting them to a large degree, as much as personal recommendations. Consumers will turn to a number of different review sites to get an understanding of the business that they are looking into. This is why you need to have as many reviews as possible, most of those positive, hopefully.
When you have a lot of positive reviews, this helps to instill a level of trust in your business and helps to solidify your reputation overall. If you have outstanding reviews across the board, consumers will no doubt find your business in their Arlington, TX searches and will be pointed to your business among the very first.
A great idea, if you have a lot of positive reviews, is to post them to your website. Your website is where you set the tone for what customers see and eventually turn those prospective customers into actual customers. When those researching your business go to your website and see the positive reviews first and foremost, that makes them even more likely to trust in your business.
Reviews are a great way to connect with customers
One of the most important keys to standing out from the competition is to have a direct connection with your customers as much as you possibly can. Customers like to feel like they are dealing with real people and aren't being handled by some soulless machine that doesn't care about them.
Reviews provide an excellent avenue for connecting with your customers. When a customer decides to leave a review, positive or negative, you can take the time to respond to them and either thank them for the positive review or ask them how their experience could have been improved.
Doing this, so long as you remain professional each time and do not let personal feelings interfere, can show your customer base as well as prospective customers that your business cares about its reputation and will go above and beyond to find out what the customer needs and wants.
This is also a fantastic method for finding out about issues that you might not have realized were issues to begin with. If a customer leaves a review about something that was lacking in service or with a complaint about a specific product, you can either provide them with a solution if you already have one or use that review as a learning experience to develop a solution.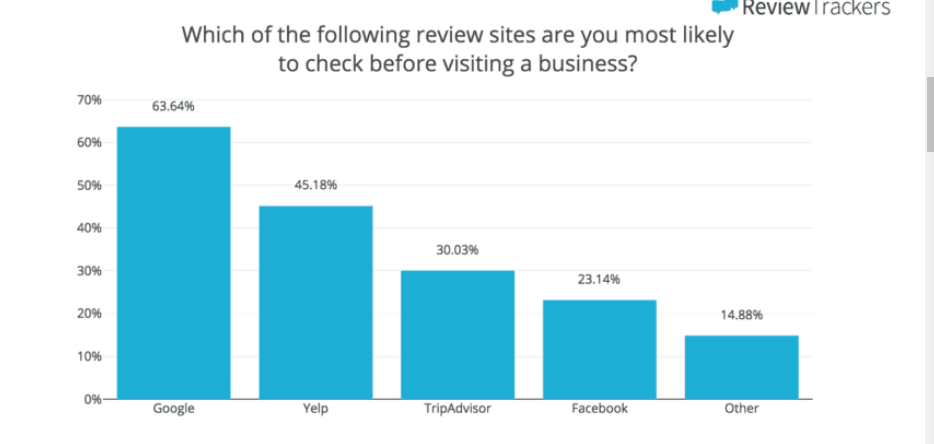 Positive reviews expand the conversation
Having a good review is obviously great in the sense that it builds credibility and trust in your business that may have not been there previously. But what you might not have realized is that any time there is something positive to talk about in terms of a product or a service, customers are likely to spread the word if they are thoroughly impressed with the service or product.
When customers have good things to say about a business, be it a product or a service, they are likely to share those reviews on other sites. When this happens, those positive reviews make it to external websites like HomeAdvisor, TripAdvisor, Yelp, FourSquare, and so many more.
This "word of mouth" in the internet era is extremely important. Because of the way that we can connect to one another from across the planet in a matter of moments, that word of mouth can spread like wildfire. If customers are impressed with your business, that good word can spread incredibly quickly.
And, as mentioned previously, when there are a litany of positive reviews available about your business online, those get compiled by search engines like Google and improve your overall search rankings. Those positive reviews can fuel you to a better search ranking which can, in turn, produce far more leads and eventual conversions into sales.
They are essential for decision making
There are a good amount of people that are very fickle and indecisive when trying to decide on which business to trust in. Thanks to online reviews, those indecisive people are becoming far more decisive in their choices. When your brand is visible online, that already helps you gain the trust necessary for that person to make a decision.
What you might not know is that a whopping two-thirds of shoppers online believe that online reviews are essential to the decision-making process. That means that some people aren't even starting to make a decision unless they have online reviews available at their disposal.
Conclusion
Ultimately, it cannot be understated just how essential reviews are to the survival and growth of a small business that may be located in Arlington, TX or anywhere else. Little or bad reviews will make your business invisible online and this is a death knell for any company.
Obviously, those positive reviews help to build credibility and trust in consumers who might not be so sure about your business or another, but they have such a huge impact that most businesses don't even realize. Affecting your Google search rankings, among other things, can be the difference between life and death for a small business.
Do all that you can to encourage reviews from your customer base. This will not only help your SEO rankings, but it will help customers get an idea about your company and if it can fulfill their needs. Most importantly, it lets customers know if your business can be trusted and trust is one of the biggest factors in getting a potential customer to choose your business.
Work diligently to get customers who have used your business to leave a review. Make sure to interact with those who do leave reviews and even provide incentives for reviews if at all possible. Building on those positive reviews can do so much for your business and can make the difference between surviving to fight another day and continuing to grow in your community and in your industry.