Social media is constantly evolving, and small business owners in Dallas – Fort Worth must learn how to leverage this medium to enhance their marketing campaigns. Since social media marketing is available toe everyone, it is one of the easiest and least expensive ways to grow your local business online. But before delving into the most recent social media data for businesses, we first must concede that social media as a marketing platform is free-flowing, and therefore, ways to best utilize it are constantly evolving. Before examining the statistics, let's take a look at the top social media platforms of 2018:
% of U.S. adults who use the following platforms as of 2018: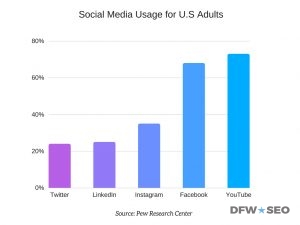 Facebook: 68%
Instagram: 35%
LinkedIn: 25%
Pinterest: 29%
SnapChat: 27%
Twitter: 24%
YouTube: 73%
WhatsApp: 22%
1. Of the U.S adults who use Facebook, 75% of them access their profile on a daily basis
Analysis – This data is hard to apply because of Facebook's recent shift in algorithm which all but eliminates the organic reach of business posts. Facebook has focused on peer to peer interaction rather than business to consumer. Still, with the amount of users continuing to access their Facebook profile each day, companies must still devote an appropriate amount of resources to their FB business page. While organic reach is no longer a path to lead generation, the presence of a well optimized business page remains important for brand awareness
2. Instagram's usage among U.S adults has grown by 7% in only 2 years, an increase unrivaled by any other social network
Analysis – Instagram is unquestionably the fastest growing social network, and this is a trend we can expect to continue its ascendance for the foreseeable future. IG business pages are now fully supported by the platform, making it easier than ever before for small businesses to join and market on the network. Business profiles are free, and unlike Facebook, your content has a decent chance to reach your followers, assuming that you are able to grow a base of followers in the first place. It's best to recalibrate your resources to account for Instagram's growing base.
3. Of Americans with a college degree, 50% use LinkedIn, as opposed to the 9% non-graduate Americans who use the platform
Analysis – Since LinkedIn is an employment based networking platform, some might read these numbers as an indictment against the non-graduate. These numbers don't imply that non-graduates aren't looking for employment, they are just looking through other channels. But since small businesses are part of LinkedIn's target audience, it makes all the sense to brand your company on the network. Building business to business relationships, as well as finding highly qualified employees, can only help your bottom line.
4. 41% of women use Pinterest as opposed to only 16% of men, highlighting the largest gender gap of any prominent social media platform
Analysis – Small businesses should study their audience demographics, including gender. Who's most likely to contact your service, is it a male or female, and what is their age? These are all questions every business should be asking, and supporting via tracked data. If your business does in fact often receive inquiries from women, it's a good idea to establish a brand on Pinterest, even if you wouldn't otherwise think to use the platform for business purposes. Every percentage you can earn above your competitor, brings you closer to the level of success for which your marketing campaign aims.
5. 49% of SnapChat users access their account more than once per day
Analysis – Nothing to see here for most small businesses. Since the network's demographic leans exceedingly young, only companies whose target consumer is within the 18-24 age range should distribute resources to the platform. The general consensus among industry experts is that SnapChat is a community made up predominantly of tennagers, which eliminates many small businesses from the equation. There are however outliers that of course have a younger demographic, and therefore should go with the data takes them.
6. 73% of Twitter users say they also use Instagram
Analysis – Target these users on Instagram, instead of Twitter. All the engagement research says the same thing. Twitter is a network for celebrity engagement, while Instagram empowers the individual and in this case, the small business. That's not to say you should ignore Twitter entirely, there's just considerable limitations to your organic reach on this network. Much like Facebook, reaching followers organically through business posts is unlikely. Besides, tweets are published so frequently, that they become old news within minutes. Use Twitter to brand your company and to syndicate announcements made on other platforms.
7. YouTube, on mobile alone, reaches more 18-49 year olds than any cable network in the U.S.
Analysis – This data is astounding, and points to the new normal for video marketing. You don't have to be a major brand to get video content in front of viewers in 2018, because it can be done easily with YouTube uploads. Of course, because so many users engage with the platform, the competition is fierce. To really create engagement on your YouTube channel it's going to take time and dedication, along with a consistent effort to produce high-quality content. With advancements in smartphones, recording videos is easier than ever before, and several free apps also support the editing and branding of videos.
Social Media Marketing For DFW Businesses
If any of these stats make you wonder about your own company's social media strategy, you should get in contact with Dallas – Fort Worth SEO today. We provide social media marketing services to small businesses throughout the Metroplex. As a forward-thinking service, we've crafted adaptable social media strategies to many businesses over the past decade. Utilizing Facebook, Instagram, LinkedIn, Twitter, and YouTube, we've helped companies connect with their consumers on their preferred mediums.
Aside from social media marketing, DFW SEO also provides social media advertising, specifically on Facebook. Because of the network's shift in philosophy, reaching consumers organically through brand posts has become all but impossible. One solution is to invest resources in Facebook advertising, which makes sure your business and its services are being seen by Facebook's massive user base. Call 800.231.4871 for social media marketing or advertising service in Dallas, Fort Worth, TX and the surrounding area.